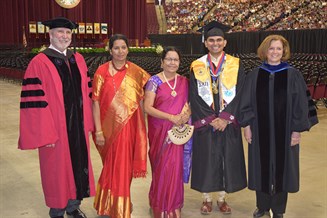 Yashwant Prakash Vyas, graduating senior in the Department of Electrical and Computer Engineering at Texas A&M University, became the first international student in Texas A&M history to speak at a commencement ceremony.
Vyas was chosen as the student voice to represent the college of engineering and give the first speech at the commencement ceremony on Thursday. To be selected, Vyas submitted an application, a sample speech and biography.
"I applied because I had an important message to convey," Vyas said in an article published by International Student Voice Magazine. "My primary message to my fellow classmates and many people who listened to the speech was to engage as active global Residents and help fellow Residents in need. I wanted to tell them how important their contributions (big or small) are to make our world a better place to live. Secondly, I understand that bringing a positive change is difficult. It is very easy to get disheartened and discouraged by the cruelties of our world, hardships of our lives and unfair and unjust systems. But it is important to develop a healthy disregard to these things and continue to ethically strive for excellence, help those in need and make our world a better place to live."
Vyas earned a Bachelor of Science in electrical engineering with double minors in mathematics and leadership studies. In addition, he earned three academic certificates, was recognized as an undergraduate leadership scholar and graduated with high honors.
During his time at Texas A&M, Vyas has belonged to numerous student organizations, such as the International Student Association, the Student Government Association Diversity Commission, the India Association, Aggie Replant, the Texas A&M UNICEF Chapter, the Aggie Orientation Leaders Program and many more. He also works as an Ask us Aggie worker in the library and offers diversity training to student organizations, schools and community centers.
Other honors include participating in the 9th Annual Brazos Valley World Fest where he won the culture display booth competition, being inducted into The National Society of Leadership and Success and being awarded the National Engaged Leader award from the society.
International Student Voice Magazine serves as a voice for international students studying in the United States and for Americans studying abroad. This magazine is distributed to over 1,000 universities and colleges in the United States.