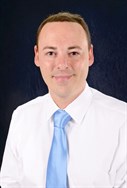 Charles Donaway, senior academic advisor in the Department of Ocean Engineering at Texas A&M University, has been awarded the 2016 President's Award for Academic Advising. Donaway received the award during the annual University Advisors and Counselors Spring Awards Breakfast.
Donaway has been an advisor in the Dwight Look College of Engineering since 2012, and has been with the ocean engineering department since its launch in fall 2015.  
"Charlie has excellent rapport with all of our undergraduate students," said Dr. Sharath Girimaji, professor and interim department head of the department. "I depend on his input for making decisions on student affairs."
"Arguably one of Mr. Donaway's most admirable traits is his personal relationship with each and every student within the ocean engineering department," said Alyssa Michalke, undergraduate student in the department and 2015-16 Corps Commander of the Texas A&M Corps of Cadets. "His extensive knowledge of the various aspects of industry, coupled with his passion for serving others, puts him on a level far superior to that of other academic advisors, and we are all blessed to have such an outstanding gentleman to assist us during our time in college."
Established in 2004, the awards recognize outstanding individuals who exemplify the qualities and practices of exceptional academic advising and service to students.
Recipients are selected by a committee composed of three students, the president-elect of the University Advisors and Counselors' executive board, and a representative appointed by Texas A&M's Office of the Dean of Undergraduate Programs and Associate Provost for Academic Services. Each recipient receives $2,000 and a plaque.