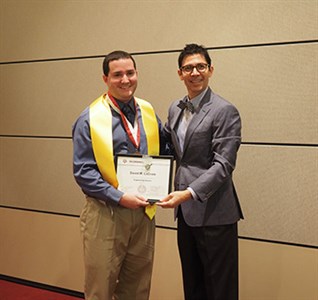 David LaCroix, computer engineering honors graduate in the Department of Computer Science and Engineering at Texas A&M University, was recently awarded the Outstanding Thesis Award for the Science, Technology, Engineering & Mathematics division of the LAUNCH: Undergraduate Research awards.
LaCroix was honored during the LAUNCH Recognition Ceremony, on May 12 at the Memorial Student Center.
This accolade shows the depth of understanding and hard work put into his research and final thesis, for which he worked alongside faculty adviser, Dr. Dilma Da Silva.
His thesis, "Data Services for Internet of Things," centered on creating a benchmark for assessing data services for the Internet of Things (IoT). IoT can be defined as a system of interconnected devices and machines with the ability to sense and actuate on the environment while transferring data over a network without demanding human-to-human or human-to-computer interaction. The overarching goal of this research project was to characterize the most effective data architecture for a given IoT capacity, in turn providing developers with awareness of the various issues that can emerge.
"The computer science and engineering honors program has been highly influential over the course of my education; whether it was connecting me with other bright students or exposing me to important topics and speakers or providing priority registration, the program has presented me with many great and impactful opportunities," LaCroix said.