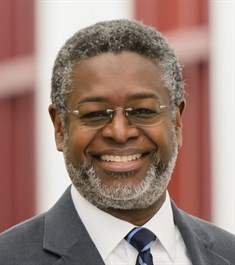 Anthony Guiseppi-Elie, TEES professor and head of the Department of Biomedical Engineering at Texas A&M University, has been named chair-elect of the American Institute for Medical and Biological Engineering (AIMBE) College of Fellows. 
Guiseppi-Elie, a class of 2006 inductee of the College of Fellows for bio-smart materials based on electroconductive hydrogels, was elected to the leadership position by the entire College of Fellows during the board of directors election and formally elevated to the position at the institute's 25th annual event in Washington, DC. 
Members of AIMBE's College Fellows are nominated each year by their peers and represent the top two percent of the medical and biological engineering community. Since AIMBE's inception, more than 2,000 esteemed individuals have been inducted. AIMBE's College consists of clinicians, industry professionals, academics and scientists who have distinguished themselves through their contributions in research, industrial practice and/or education. Fundamental to their achievements is the common goal of embracing innovation to improve the health care and safety of society. 
Guiseppi-Elie received his Sc.D. in materials science and engineering from the Massachusetts Institute of Technology, his master's degree in chemical engineering from the University of Manchester Institute of Science and Technology, and his bachelor's degree in analytical chemistry, biochemistry and applied chemistry from the University of the West Indies. 
Guiseppi-Elie's research interests are in engineered bioanalytical microsystems in the service of human health and medicine, and he has been principal investigator on more than $20 million in funding of sponsored programs, gifts, and contracts including a recent $3,280,000 award from the U.S. Department of Defense. 
His research uses intrinsically conductive polymers combined with synthetic hydrogels and natural biopolymers to engender biologically active and responsive interfaces in biosensors, implantable electrodes and soft implantable electronics. With more than 145 peer-reviewed publications, eight book chapters and eight patents, Guiseppi-Elie is a recognized international expert in his field. 
Additionally, Guiseppi-Elie is founder, president and scientific director of ABTECH Scientific, Inc., a near-patient biomedical diagnostic company. He also serves as editor-in-chief of Bioengineering, and associate editor of Biomedical Microdevices and is a member of the editorial boards of The Journal of Bioactive and Compatible Polymers, NanoBiotechnology, and Applied Biochemistry and Biotechnology. He has been a guest editor for the Institute of Electrical and Electronics Engineers (IEEE) Journal of Biomedical and Health Informatics.
Guiseppi-Elie is a Fellow of AIMBE, IEEE and the Royal Society of Chemistry. He is a lifetime member of the American Institute of Chemical Engineers and holds memberships in the American Association for the Advancement of Science, the American Chemical Society, the Materials Research Society and the Biomedical Engineering Society. He has been an IEEE EMBS distinguished lecturer and the past year was selected for a Fulbright Specialists project at Universidad Nacional de Tucumán (UNT), Facultad de Ciencias Exactas y Tecnología (FACET) in Argentina. 
AIMBE is a non-profit organization representing 50,000 individuals and the top two percent of medical and biological engineers. AIMBE represents academic institutions, private industry, and other professional engineering societies. AIMBE was founded in 1991 to provide leadership and advocacy in medical and biological engineering for the benefit of society.
About the Department of Biomedical Engineering
Committed to solving the world's greatest health problems through the exploration of new ideas, integrated research and innovation, the Department of Biomedical Engineering at Texas A&M is producing the next generation of biomedical engineers, developing new technologies and new jobs, and achieving revolutionary advancements for the future of health care. The department has unique strengths in regenerative medicine, medical augmentation, molecular diagnostics/theranostics, tele-health, and precision medicine, and its faculty members are internationally recognized with collaborative relationships that span engineering, physical and natural sciences, medicine and veterinary sciences.