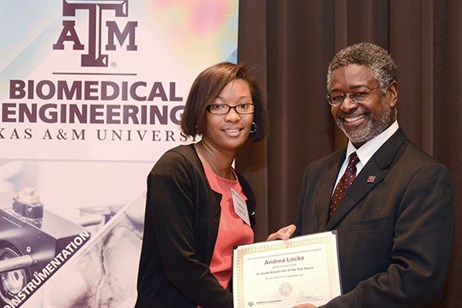 Fueled by its focus on people, biomedical engineering is a discipline unlike any other, continuously improving the human condition across numerous areas of health care and poised to make an even greater impact in the near future, said Carl Knowlan, president of the Knowlan Foundation, at the inaugural awards banquet of Texas A&M University's Department of Biomedical Engineering. 
"I truly believe that biomedical engineering is the one interdisciplinary science – or one area of interdisciplinary study – that will truly result, in our lifetime, in improvement of the human condition, in solutions for diseases, in alleviation of human suffering, and in practical solutions to help people as disease hits them," Knowlan said. 
Knowlan, who heads a foundation that provides innovative programs to help improve individual lives and communities, expressed his belief in biomedical engineering's ability to positively impact lives and lauded the vision of TEES Professor and Department Head Anthony Guiseppi-Elie to students, faculty, staff and supporters of the department in attendance. 
The inaugural banquet, which is slated to become an annual event, was organized to recognize and celebrate the accomplishments of the department and its people, Guiseppi-Elie noted. 
"I have the distinct honor and pleasure to serve a distinguished group of accomplished faculty, a very talented and motivated student body of graduates and undergraduates, and a dedicated and hard-working staff, as their head of the department." 
As part of the event's award ceremonies, students Erica Gacasan and Andrea Locke were named the department's undergraduate researcher of the year and graduate researcher of the year, respectively. Graduate student Haley Marks was named teaching assistant of the year, and the student team of Berkay Basagaoglu, Sean Faries, Sarah Gates, Jacob Heiner and Rebecca Sehnert received the senior design award for its project "Placental Membrane Anchor for Fetoscopic Surgery." Concepts developed by the team will be implemented by Texas Children's Hospital, noted Balakrishna Haridas, professor of practice and master of ceremonies for the event. 
In addition, six standout students from the department were formally awarded scholarships. Joshua Burress received the Dr. William Hyman Scholarship; Kendal Ezell and James Gentry each received the Peter Chaplinisky Memorial Scholarship; Cassidy Gobbell and Christopher Vega each were named holders of the Brian J. & Victoria Ozimek Scholarship; and Bryan Lindsey received the Roger J. McNichols '98 Memorial Scholarship.
Also addressing the crowd that evening, Martha Parker, president of M-erg, an ergonomic consulting firm based in Houston, emphasized the power of a biomedical engineering education to enable students to pursue various and interesting career paths, extolling the discipline's focus on people as the key factor in setting it apart from other degrees and careers. 
"Biomedical engineering can be a stepping stone; you can take it anywhere you want." Parker said. "We start off knowing enough about a lot of things, and once we figure out what our passion is, we delve into that and narrow that niche down. The key, the thing that is in the middle of that niche, is people. Those people look like your families, they look like employees, they're patients, they're soldiers, they're people with disabilities, but they're still people. And the people as the middle of what we do sets us apart from every other engineering discipline at this university. It's the people that make the difference." 
Joining the department in honoring its individuals, two student-led organizations formally presented awards to four recipients. Kristen Maitland, associate professor and associate department head, received the Faculty of the Year Award from the Biomedical Engineering Graduate Student Association (BMEGSA). Carl Johnson, technical laboratory coordinator was honored by the organization with the Staff of the Year Award. In addition, Holly Gibbs, research scientist and lecturer, received the Faculty Commitment to Students Award from the Biomedical Engineering Society, Texas A&M University Chapter (BMES). Emily Dykes, senior academic adviser I, received the BMES Staff Commitment to Students Award.  
Concluding the evening, the 2016 graduating class, represented by Sehnert, kicked off what it hopes will become a new tradition for subsequent classes, presenting the department with a framed senior class photo. Members of the class are scheduled to graduate next month with their degrees in biomedical engineering. 
"While the diploma that they will get will signify their accomplishments in a rather technically rigorous program of preparation, what will matter in their lives are the universal values that they acquired here at Texas A&M – that commitment to excellence, integrity, leadership, loyalty, respect and selfless service," noted Guiseppi-Elie. 
About the Department of Biomedical Engineering
Committed to solving the world's greatest health problems through the exploration of new ideas, integrated research and innovation, the Department of Biomedical Engineering at Texas A&M is producing the next generation of biomedical engineers, developing new technologies and new jobs, and achieving revolutionary advancements for the future of health care. The department has unique strengths in regenerative engineering, medical augmentation, molecular diagnostics/theranostics, tele-health, and precision medicine, and its faculty members are internationally recognized with collaborative relationships that span engineering, physical and natural sciences, medicine and veterinary sciences.