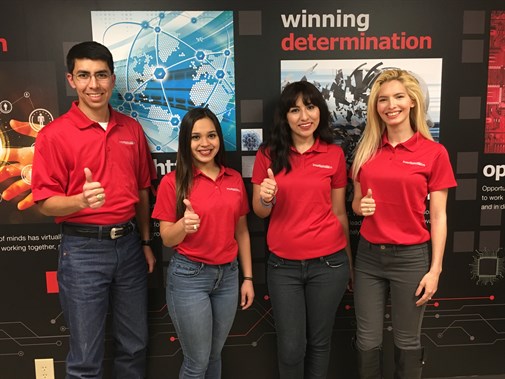 Caption: (From left to right): Geno Martinez, Edna Cano, Kenia Sifuentes, and Giselle Perez
What does it take to earn a diploma at Texas A&M University? For a group of seniors in the Department of Engineering Technology and Industrial Distribution, their final undergraduate degree requirement involves a display of street magic — or so it appears.
The team's task is to equip a go-kart so that the electronic vehicle will follow another go-kart all on its own, as in: without a driver. This study in intelligent transportation systems is the capstone design project plan for one male student and three female students in the department's Electronics Systems Engineering Technology program as they prepare for graduation in December.
Intellimotion Innovations is the name of the team, whose objective is to create a scaled prototype of a phase 1 vehicle following system, with all movement dependent upon wireless sensing, control and communication. The lead vehicle will have a driver and the second go-kart will trail its path autonomously. Such synchrony does not come by accident, but will be the direct result of the mindful assembling of the four students as a corporate body.    
"We grew together over the years," said project manager Edna Cano of the team's decision to work together. Each member self-selected his or her own position for the project. "We have to implement hardware, software and control design into two vehicles, they must be scaled and they need to work in an enclosed area with the second vehicle having to intelligently mimic the first vehicle."
The first vehicle is going to have sensing and it will process data that wirelessly communicates with the second vehicle, controlling the vehicle's speed, steering and braking.
"Right now we are in the planning stage, doing research," said Cano. "I feel confident that we'll get this done."
"We've already talked amongst ourselves that when the summer hits we are not leaving on vacation but we are going to stay here and work," said Geno Martinez, software engineer.
Faculty member Dr. Joseph Morgan said, "They will be designing their own circuit board, which will have embedded intelligence and it will be required to work. We are talking about a significant level of work that is not typical of a senior design project. They build everything, from the boards to the enclosures. They'll be under the car with crescent wrenches and screwdrivers."   
"The automotive industry has been trying to pursue this capability of wireless communication between cars for many years," said Martinez. "This capability could then be scaled up in many ways." 
While the scope of this effort is rare, more so is the composition of the team. Never before in the program has a four-person capstone project team included three female students. Since the project will occupy a year of the student's time and effort, each responded to questions about the familial support and interest surrounding this initiative.
"I'm going to be a first-generation college graduate," said Kenia Sifuentes, hardware engineer from Mexico. "Of this project, my mom said, 'Do you think you can do it?' It makes them proud, but at the same time I have to prove to them that I am going to do this."
Giselle Perez, systems engineer from Cuba, said, "My parents are not very technical, so they probably would not understand the concept. I should probably [explain it to them]."
Martinez added, "When I shared this with my parents, my father, who is a Marine, wondered if the military would be interested in using this technology."
"I don't have engineers in my family, but they are aware of how much work I have to put into it. They are very proud and very supportive of me," said Cano.
By the summer of 2016, Intellimotion expects to have reached the design implementation phase of the project.
Funding for the project was obtained from General Motors and awarded to Dr. Reza Langari, department head and professor.
"This project enables our students to work on a cutting edge problem in the emerging area of automated and connected vehicles while also providing an opportunity for the GM partnership to have meaningful impact on the education of our students," said Langari.  
Capstone projects in the Electronics Systems Engineering Technology program must meet a technical merit, software and hardware must be developed and the project needs to be funded.