Brandon Sweeney and Blake Teipel, graduate students in the Department of Materials Science and Engineering at Texas A&M University, won the $50,000 first prize for their patent-pending 3-D printing at the 2016 Baylor New Venture Competition at Baylor University. The two-day event was composed of a dual-round business plan competition and speed pitch competition, both of which were geared at promoting entrepreneurship and small business development.
Sweeney and Teipel presented TriFusion Devices, which they co-founded to design and manufacture customized, durable and load-bearing prosthetic devices using carbon nanotube-coated printed filament coupled with their novel microwave welding process.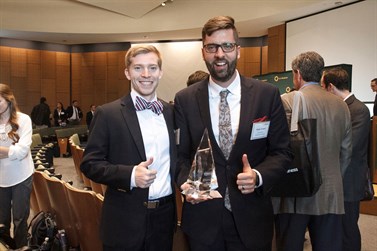 TriFusion Devices has raised $52,000 so far and continues to garner interest from venture capitalists and institutional investors seeking to fund new technology startups.
"Exciting new technology combined with humanitarian core values and solid financial projections naturally positions TriFusion Devices to grow into a successful and stable business," said Sweeney.
In the fall, the students were selected as winners at the 2015 Southeastern Conference (SEC) Symposium's inaugural Student Entrepreneurial Pitch Competition in Atlanta. They also won the Center for New Ventures and Entrepreneurship's 14th annual Raymond Ideas Challenge at the Mays Business School. Teipel won the competition for the second year in a row.