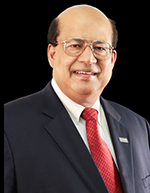 Dr. M. Sam Mannan, director of the Texas A&M Engineering Experiment Station's Mary Kay O'Conner Process Safety Center and Regents Professor in the Artie McFerrin Department of Chemical Engineering at Texas A&M University, was named the first holder of the M.A. Naser Chair by Bangladesh University of Engineering and Technology (BUET). Mannan was introduced during a ceremony to mark the launch of the chair by Rahman Murshed, president of the BUET Chemical Engineering Association, and Professor M.A.A. Shoukat Choudhury, department head of chemical engineering at BUET.
The chair was established by the BUET Chemical Engineering Alumni Association to recognize the contributions made by Professor M.A. Naser, former vice chancellor of BUET and a pioneer in the field of chemical engineering education in Bangladesh.
Dr. Toufiq Ali, CEO of Karnaphuli Fertiliser Company Ltd., Professor Nooruddin Ahmed and Professor Tqbal Mahmud, both former vice chancellors of BUET, gave presentations at the ceremony. Also in attendance were representatives from the Bangladesh National Authority of Chemical Weapon Convention, the Armed Forces Division, Chevron and Dutch-Bangla Bank.