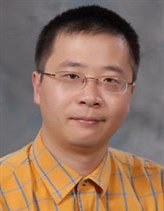 Dr. Guofei Gu, assistant professor of computer science and engineering at Texas A&M University, was chosen by the Google Faculty Research Awards Program as a recipient of financial support for his proposal, "Exploring Network Security Innovations in the New Paradigm of Software-Defined Networking (SDN)." This project is one of 115 chosen from a total of 691 considered by Google during its Winter 2014 call for research project proposals.
"Software Defined Networking (SDN) is an emerging technology that enables researchers and practitioners to design new innovative network functions/protocols in an easy, flexible, and powerful way," said Dr. Gu. "We envision that SDN can impact network security research in many different ways. In particular, this project will investigate how SDN can help enhance network security by enabling novel threat mitigation/response applications, and how SDN will bring new security vulnerabilities not seen in traditional networks."
Dr. Gu joined the computer science and engineering faculty at Texas A&M University in 2008, shortly after receiving his Ph.D. in Computer Science from the Georgia Institute of Technology. He is the director of the Secure Communication and Computer Systems (SUCCESS) lab where he and his students conduct investigations into Internet malware/botnet detection, defense, and analysis, Web and social networking security, software-defined networking (SDN/OpenFlow) security, mobile and android security, intrusion detection, and anomaly detection.
"I'm interested in all aspects of network and system security. To solve practical security problems, I use networking and system techniques, as well as applied cryptography, machine learning, probability/statistics, and information theory," said Dr. Gu.
In addition to his Google Research award, Dr. Gu received the 2013 Air Force Office of Scientific Research Young Investigator Award for his investigation entitled, "Go Ahead of Malware's Infections and Controls: Towards New Techniques for Proactive Cyber Defense," and a 2010 NSF CAREER award for his project, "Coordination- and Correlation-based Botnet Defense."
One of the goals of the Google Faculty Research Awards Program is to fund leading edge advancements in new technology projects in computer science, engineering, and related fields. Its next submission deadline is April 15, 2014. To learn more about the Google Research Awards Program, visit http://research.google.com/university/relations/research_awards.html.