Phone:

979-845-1417

FAX:

979-845-3081

Email:

ssuh@tamu.edu

Office:

MEOB 215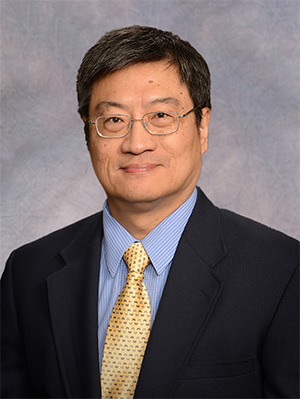 Educational Background
Ph.D. Mechanical Engineering, Texas A&M University, 1997.
M.S. Mechanical Engineering, Auburn University, 1991.
B.S. Mechanical Engineering, Feng-Chia University, 1984.
Research Interests
Characterization and control of dynamic manufacturing instability; Engineering design theory; MEMS and NMEMS fabrication; High-performance microelectronic packaging; Dynamic system diagnostics and prognostics; Linear and nonlinear stress wave propagation; Laser ultrasonic thermometry.
Awards & Honors
ASME, Fellow (2019)
Ford Fellow, TAMU, 2003-2004.
Nominee for TEES Select Young Faculty Award, 2002.
Member of Sigma Xi since 1996.
Member of ASME since 1989.
Member of SEM since 1991.
Selected Publications
Mao, Xu and Suh, C.S., (2019) "Ultrashort Pulse Induced Elastodynamics in Polycrystalline Materials Part I: Model Validation," Journal of Thermal Stresses. 42(3), pp. 374-387. https://doi.org/10.1080/01495739.2018.1524729
Mao, Xu and Suh, C.S., (2019) "Ultrashort Pulse Induced Elastodynamics in Polycrystalline Materials Part II: Thermal-Mechanical Response," Journal of Thermal Stresses. 42(3), pp. 388-400. https://doi.org/10.1080/01495739.2018.1524730
Mao, Xu and Suh, C.S., (2018) "Generalized Thermo-Elastodynamics for Polycrystalline Metallic Thin Films in Response to Ultrafast Laser Heating," Journal of Thermophysics and Heat Transfer. 33(1), pp. 106-116. https://doi.org/10.2514/1.T5429
Branigan, Z. and Suh, C.S. (2018) "Power Density – An Alternative Approach to Quantifying Fatigue Failure," Vibration Testing and System Dynamics, 2(4), pp. 307-326
Lin, Y., Liu S., Zhao X., Mao, E., Cao C., and Suh, C.S. (2018) "Fatigue Life Prediction of Engaging Spur Gears Using Power Density," Proc. IMechE Part C: Journal of Mechanical Engineering Science. DOI:10.1177/0954406217751557