Associate Professor, Mechanical Engineering
J. Mike Walker '66 Career Development Professor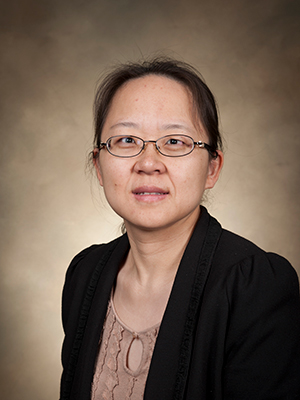 Educational Background
Ph.D., Mechanical Engineering, Oklahoma State University – 2004
M.S., Thermal Engineering, Tongji University – 2000
Research Interests
Building/HVAC&R energy efficiency
Intelligent building controls and optimization
Grid-interactive efficient buildings
Heat pump technologies
Uncertainty quantification in building energy systems
Well-being in the built environment
Industry Experience
5 years of industry research experience – Principal Investigator, Staff Research Engineer/Scientist with United Technologies Research Center (UTRC), East Hartford, CT.
Two years of industry consulting experience – Energy Analyst with Cimetrics, Boston, MA.
Awards & Honors
2021 IBPSA Fellow
2021 ASHRAE Fellow
2020-2022 Texas A&M J. Mike Walker '66 Faculty Fellow II
2020 Texas A&M Engineering Genesis Award
2019 ASHRAE Distinguished Service Award
2019 The University of Alabama President's Faculty Research Award
2018 IBPSA-USA Emerging Contributor Award
2017 ASHRAE Innovative Research Grant (IRG) Award
2016 Educator of the Year, from ASHRAE Birmingham Chapter
2015 DOE IAC Junior Faculty Research Award
2010 United Technologies Research Center Outstanding Achievement Award
Selected Publications
Fu, Y., Z.D. O'Neill, Z. Yang, V. Adetola, J. Wen, L. Ren, T. Wagner, Q. Zhu and T. Wu. 2021. Modeling and Evaluation of Cyber-Attacks on Grid-Interactive Efficient Buildings. Applied Energy. 303 (2021): 117639. https://doi.org/10.1016/j.apenergy.2021.117639
Lu, X. , V. Adetola and Z. D. O'Neill. 2021. What Are The Impacts on the HVAC system When It Provides Frequency Regulation? – A Comprehensive Case Study with a Multi-Zone Variable Air Volume (VAV) System. Energy and Buildings. 243(2021): 110995 https://doi.org/10.1016/j.enbuild.2021.110995
Pang, Z. , Y. Chen, J. Zhang, Z.D. O'Neill, H. Cheng, and B. Dong. 2020. How Much HVAC Energy Could Be Saved from the Occupant-Centric Smart Home Thermostat: A Nationwide Simulation Study. Applied Energy. (2020): 116251. https://doi.org/10.1016/j.apenergy.2020.116251
O'Neill, Z.D. , Y. Li , H. Cheng, X. Zhou and S. Taylor. 2019. Energy Savings and Ventilation Performance from CO2-based Demand Controlled Ventilation: Simulation Results from ASHRAE RP-1747. (ASHRAE RP-1747). Science and Technology for the Built Environment. 26 (2): 257-281. https://doi.org/10.1080/23744731.2019.1620575
Eisenhower, B., Z.D. O'Neill, S. Narayanan, V. A. Fonoberov and I. Mezic´. 2012. A Methodology for Meta-model Based Optimization in Building Energy Models. Energy and Buildings. 47:292-302 DOI:10.1016/j.enbuild.2011.12.001.