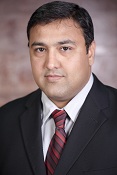 Educational Background
Ph.D., University of Michigan, Ann Arbor, USA 2010
M. S., University of Michigan, Ann Arbor, USA 2006
B.S., University of Engineering and Tech., Lahore, Pakistan 2002
Research Interests
Dr. Mansoor's teaching and research interests include: Mechanical Behavior of Materials, Mechanical Design, Corrosion. Membrane Distillation, Thermomechanical Processing, Nano-structured Metallic Alloys and Composites, Cellular Materials, Superplasticity & Superplastic Forming, Friction Stir Joining, Additive Manufacturing, Hydrogen Storage, Resorbable Biomedical Implants and Biomineralization. 
Awards & Honors
Graduate Student Research Assistantship, University of Michigan, USA, 2006-2010
Teaching Assistantship, University of Michigan, Ann Arbor, USA, 2006- 2010
Departmental Fellowship, University of Michigan, Ann Arbor, USA, 2010
Selected Publications
E Guillen-Burrieza, B Mansoor, N Hilal, "Fouling behaviour of PVDF and PTFE membranes under Intermittent Seawater Membrane Distillation Conditions", Journal of Membrance Science. 438 (2013) 126–139.
RB Saffarini, B Mansoor, R Thomas, HA Arafat, " Effect of temperature-dependent microstructure evolution on pore wetting in PTFE membranes under membrane distillation conditions". Journal of Membrance Science, 429 (2013) 282–294.
Q Zaib, B Mansoor, F Ahmad, "Photo-regenerable multi-walled carbon nanotube membranes for removal of pharmaceutical micro pollutants from water". Environmental Science: Processes & Impacts, 15(2013) 1582-1589.
An Albakri, B Mansoor, MK Khraisheh," Thermo-mechanical and metallurgical aspects in friction stir processing of AZ31 Mg alloy –a numerical and experimental investigation", Journal of Materials Processing & Technology, 213 (2013) 279– 290.
B Mansoor, and AK Ghosh, "Microstructure and tensile behavior of a friction stir processed magnesium alloy", Acta Materialia, 60 (2012), 5079-5088.