Assistant Professor, Mechanical Engineering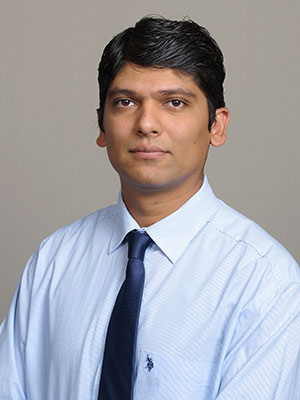 Educational Background
Ph.D., Aerospace Engineering, University of Maryland, College Park — 2014
M.S., Aerospace Engineering, University of Maryland, College Park — 2012
B.S., Aerospace Engineering, University of Maryland, College Park — 2008
Research Interests
Autonomous System Architectures
Learning Architectures for Fluidic Systems
Model Based Approaches for Process Automation
Industry Experience
5 years of experience working in and with the Aerospace industry

Smart materials for wing morphing for Airbus Europe
Aerodynamics and Thermal Engineer for Virgin Galactic's SpaceShip2 Unity
Printed landed pads for lunar landers, NIAC project with Masten Aerospace
Plume surface interaction modeling for Artemis projects with Masten Aerospace
Awards & Honors
2008 American Institute of Aeronautics and Astronautics member
Selected Publications
Prakash, K., Mohamed, M.N.G., Chakravorty, S, Hasnain, Z. "Structure Aided Odometry (SAO) : A Novel Analytical Odometry Technique Based on Semi-Absolute Localization for Precision-Warehouse Robotic Assistance in Environments with Low Feature Variation." J Intell Robot Syst 102, 72 (2021). https://doi.org/10.1007/s10846-021-01427-w
Tangsali, K., Krishnamurthy, V. R., and Hasnain, Z. (November 13, 2020). "Generalizability of Convolutional Encoder–Decoder Networks for Aerodynamic Flow-Field Prediction Across Geometric and Physical-Fluidic Variations." ASME. J. Mech. Des. May 2021; 143(5): 051704. https://doi.org/10.1115/1.4048221
Kuhns, R., Metzger, P., Kuhns, M., Hasnain, Z., and Tangsali, K., "Rocket Plumes and Aeolian-like Bedforms in Regolith." 52nd Lunar and Planetary Science Conference, no. 2548, 2021.
Kuhns, M., Metzger, P., Hasnain, Z., and Zacny, K., "Instant Landing Pads for Lunar Missions." ASCE Earth and Space Conference 2021: Space Exploration, Utilization, Engineering, and Construction in Extreme Environments.