Professor, Mechanical Engineering
Marcus C. Easterling '30 Chair Professor
University Distinguished Professor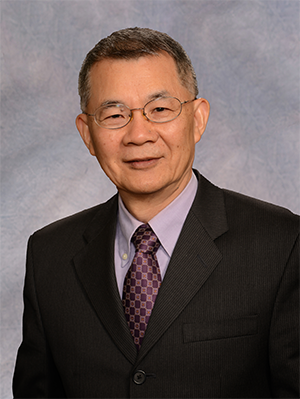 Educational Background
Sc.D. Mechanical Engineering, Massachusetts Institute of Technology, Cambridge, Massachusetts 1976
M.S. Mechanical Engineering, Lehigh University, Bethlehem, Pennsylvania 1973
B.S. Mechanical Engineering, National Taiwan University, Taipei, Taiwan 1970
Research Interests
Thermal Fluid Sciences – heat transfer and cooling in gas turbines, heat transfer enhancement, heat transfer in rotating flows, film cooling in unsteady high turbulent flows, combustor-liner cooling, mini-channel heat transfer, advanced CFD and experimental methods.

Energy and Power Technology – advanced gas turbine for aircraft propulsion, advanced hydrogen turbine for clean power generation, advanced and clean energy technology.
Awards & Honors
ASME K-14 Best Heat Transfer Paper Award, 2018
ASME and AICHE Max Jakob Memorial Award, 2016
AIAA FELLOW, 2016
ASME IGTI Aircraft Engine Technology Award, 2016
ASME Heat Transfer Division 75th Anniversary Medal, 2013
ASME K-14 Warren Rohsenow Prize for Best Presentation, November 13, 2007
Distinguished Professor, Texas A&M University, September 2006-present
ASME IGTI Certificate Award for Valued Service as Chair – Heat Transfer Committee, 2004-2006
AIAA Thermophysics Award – June 29, 2004
ISROMAC (International Symposium on Rotating Machinery) Award in Heat Transfer Category – March 9, 2004
ASME Heat Transfer Memorial Award in the Art Category, 2002
Marcus C. Easterling Chair, Texas A&M University, June 2001-present
Selected Publications
Han, J.C., "Advanced Cooling in Gas Turbines 2016 Max Jakob Memorial Award Paper," ASME Journal of Heat Transfer, Vol. 140, No. 11, 2018, pp. 113001-1-20.
Wright, L.M., and Han, J.C., "Heat Transfer Enhancement for Turbine Blade Internal Cooling," Journal of Enhanced Heat Transfer, Vol. 21, No. 3-4, 2015, pp. 111-140.
Ekkad, S.V., and Han, J.C., "A Review of Hole Geometry and Coolant Density Effect on Film Cooling," Frontiers in Heat and Mass Transfer, Vol. 6, No. 8, 2015, pp. 1-14, DOI: 10.5098/hmt.6.8.
Han, J.C., "Fundamental Gas Turbine Heat Transfer," ASME Journal of Thermal Science and Engineering Applications, Special Issue: 75th Anniversary Celebration of the Heat Transfer Division, 5: 021007.1-021007.15, 2013.
Han, J.C., Dutta, S., and Ekkad, S.V., Gas Turbine Heat Transfer and Cooling Technology, second edition, CRC Press, 2012, ISBN# 978-1-4398-5568-3, 869 pages.
Han, J.C., Analytical Heat Transfer, CRC Press, 2011, ISBN #9781439861967, 352 pages.