Research Assistant Professor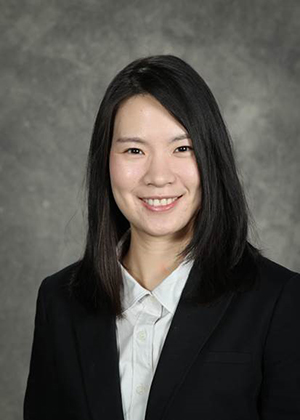 Educational Background
Ph.D., Chemical Engineering, University of Michigan, Ann Arbor 2012
M.S., Chemical Engineering, University of Michigan, Ann Arbor 2008
B.S., Chemical Engineering, Chulalongkorn University, 2006
Research Interests
Charoenphol's research focuses on the development of smart vehicles for targeted drug and gene delivery in cancer and cardiovascular diseases. Her research includes aspects of particle synthesis, blood flow dynamics, cell adhesion assays, animal model and DNA Self-assembly. She is currently working on a project involving the development of contrast agents that aid an optical imaging tool to predict the risk of heart diseases.
Awards & Honors
American Heart Association Scientist Development Award
Selected Publications
W. Kim, E. Zebrowski, H.C. Lopez, B.E. Applegate, P. Charoenphol, and J.A. Jo, "Pump-probe optical coherence tomography using microencapsulated methylene blue as a contrast agent" Proc. SPIE 9697, Optical Coherence Tomography and Coherence Domain Optical Methods in Biomedicine (April 26, 2016).
P. Charoenphol, and H. Bermudez, "Aptamer-targeted DNA nanostructures for therapeutic delivery" Molecular Pharmaceutics (2014), 11(5), 1721-1725.
P. Charoenphol, P.J. Onyskiw, M. Carrasco-Teja, and O. Eniola-Adefeso, "Particle-cell dynamics in human blood flow: Implications for vascular-targeted drug delivery" Journal of Biomechanics (2012), 45(16), 2822-2828.
P. Charoenphol, S. Mocherla, D. Bouis, K. Namdee, D.J. Pinsky, and O. Eniola-Adefeso, "Targeting therapeutics to the vascular wall in atherosclerosis – Carrier size matters" Atherosclerosis (2011), 217(2), 364-370.
P. Charoenphol, R.B. Huang, and O. Eniola-Adefeso, "Potential role of size and hemodynamics in the efficacy of vascular-targeted spherical drug carriers" Biomaterials (2010), 31(6), 1392-1402.