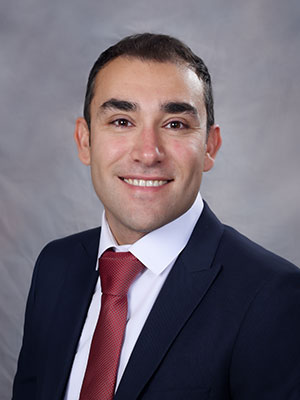 Educational Background
2008 — Doctorate of Philosophy, mechanical engineering, University of Minnesota
2005 — Master of Science, mechanical engineering, Georgia Institute of Technology
2002 — Bachelor of Science, mechanical engineering, Sharif University of Technology
Research Interests
Fluid-Structure Interaction

Computational Fluid Dynamics

High-Performance Computing

Biofluids, Cardiovascular flows

Bio-Inspired Propulsion

Suspensions
Awards & Honors
Fulbright Scholar (2017–18)
UB Exceptional Scholars Young Investigator Award (2015), University at Buffalo (UB), State University of New York
Early CAREER award (2015), National Science Foundation
Doctoral New Investigator award (2013), American Chemical Society
Scientific Development award (2013), American Heart Association
Selected Publications
Asgharzadeh, H., and Broazjani, I. (2016). A Newton-Krylov method with an approximate analytical Jacobian for implicit solution of Navier-Stokes equations on staggered overset-curvilinear grids with immersed boundaries. Journal of Computational Physics, 331 (15), 227–256 DOI: 10.1016/j.jcp.2016.11.033
Bottom, R.G., Borazjani, I., Belevins, E., and Lauder, G.V. (2016). Hydrodynamics of swimming in stingrays: Numerical simulations and the role of the leading edge vortex. Journal of Fluid Mechanics 788, 407-443 DOI:10.1017/jfm.2015.702.
Daghooghi, M. and Borazjani, I. (2015). The influence of inertia on the rheology of a periodic suspension of neutrally buoyant rigid ellipsoids. Journal of Fluid Mechanics 781, 506-549.
Borazjani, I. (2013). Fluid-Structure Interaction, Immersed Boundary-Finite Element Method Simulations of Bio-prosthetic Heart Valves. Computer Methods in Applied Mechanics and Engineering 257, 103-116 DOI:10.1016/j.cma.2013.01.010.
Borazjani, I. and Daghooghi, M. (2013). The fish tail motion forms an attached leading edge vortex Proceedings of the Royal Society B 280(175), 20122071.