Professor
J. Mike Walker '66 Chair Professor
Member, National Academy of Engineering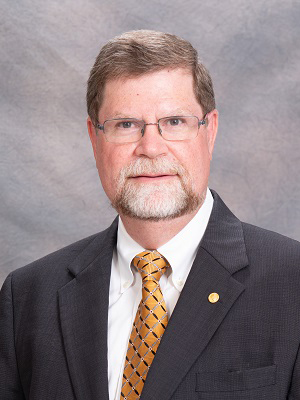 Educational Background
Ph.D., Mechanical Engineering, The University of Texas at Austin — 1991
M.S., Mechanical Engineering, Washington University in St. Louis — 1987
B.S., Mechanical Engineering, Washington University in St. Louis — 1986
Research Interests
Robot Manipulation
Robot Mobility
Wearable Robotics
Electro Mechanical System Design
Industry Experience
8 years of industrial experience as a project leader at MITRE and Metrica Inc.
Over 20 years of government experience at NASA

Member of the U.S. Senior Executive Service
Division Chief, Johnson Space Center
Principal Technologist, NASA Headquarters
Retired 2021

IEEE Robotics and Automation Society VP for Industrial Activities
Awards & Honors
2020 Robo-Glove, NASA Commercialized Invention of the Year
2020 Elected to the National Academy of Engineering
2016 Selected for Senior Executive Service (SES)
2015 Robonaut 2, NASA Invention of the Year
2013 Robo-Glove: R&D Magazine One of the 100 Most Significant New Products of the Year
2013 University of Texas Distinguished Alumni Award
2013 NASA Outstanding Leadership Medal, for leading NASA's Multi-center human robotics team
2010 GM Most Valuable Colleague Award
2010 NASA Outstanding Leadership Medal, for leading the Human-Robotic Systems team
2005 NASA Exceptional Technology Achievement Medal, for advancing dexterous space robotics
2005 NASA JSC Director Commendation
2003 Rotary Stellar Award Nominee
Selected Publications
Bluethmann, W., Herrera, E., Hulse, A., Figuered, J., Junkin, L. Q., Markee, M., Ambrose, R.O., "An active suspension system for lunar crew mobility", Proceedings of the IEEE Aerospace Conference 2010, Big Sky Montana, March 2010.
Ambrose, R.O. and Ambrose, C.G., "Primate Anatomy, Kinematics and Principles for Humanoid Design", International Journal of Humanoid robots, Volume 1, Pages 175-198, 2004.
O'Malley, M.K., Hughes, K.J., Magruder, D.F. and Ambrose, R.O., "Simulated Bilateral Teleoperation of Robonaut", Journal Environments, Volume 8, September 2003.
Bluethmann, William, Ambrose, Robert, Diftler, Myron, et. al., "Robonaut: A Robot Designed to Work with Humans in Space", Jou. of Autonomous Robots, Volume 14, pages 179-197, December 2002.
Ambrose, Robert O., Aldridge, H., Askew, R. S., Burridge, R., Bluethmann, W., Diftler, M.A., Lovchik, C., Magruder, D. and Rehnmark, F., "ROBONAUT: NASA's Space Humanoid", IEEE Intelligent Systems Journal, August 2000.