Professor, Mechanical Engineering
James and Ada Forsyth Professor
Department Head, Mechanical Engineering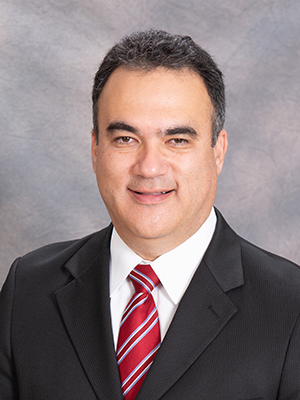 Educational Background
Ph.D., Mechanical Engineering, University of California Santa Barbara - 1999
M.S., Mechanical Engineering, University of California Santa Barbara - 1995
B.S., Mechanical and Electrical Engineering, National Autonomous University of Mexico - 1993
Research Interests
Biological tissue thermal management/c

ryogenic spray cooling

Biomedical

optics/biomaterials development and characterization

Non-invasive optical imaging

Medical laser

applications/l

aser-tissue

rewarming

Optical-induced cavitation/controlled surface erosion/mitigation
Awards & Honors
2023 American Institute for Medical and Biological Engineering (AIMBE) Fellow
2021-Present Emeritus/Adjunct Professor of Mechanical Engineering UC Riverside
2020 American Society of Mechanical Engineering Fellow
2019 National Academy of Engineering of Mexico
2014 STAR Award: Educator of the Year (SHPE)
2003 American Society for Lasers in Medicine and Surgery (ASLMS) Fellow
2002-2007 Research Scientist Development Award
American Association for the Advancement of Science (AAAS) Member
Selected Publications
Alvarez C, Berrospe-Rodriguez C, Wu C, Pasek-Allen J, Khosla K, Bischof J, et al. Photothermal heating of titanium nitride nanomaterials for fast and uniform laser warming of cryopreserved biomaterials. Frontiers in Bioengineering and Biotechnology. 2022;10.
Gonzalez-Parra JC, Robles V, Devia-Cruz LF, Rodriguez-Beltran RI, Cuando-Espitia N, Camacho-Lopez S, et al. Mitigation of cavitation erosion using laser-induced periodic surface structures. Surfaces and Interfaces. 2022;29:101692.
Penilla E, Devia-Cruz L, Wieg A, Martinez-Torres P, Cuando-Espitia N, Sellappan P, et al. Ultrafast laser welding of ceramics. Science. 2019;365(6455):803-8.
Robles V, Gonzalez-Parra JC, Cuando-Espitia N, Aguilar G. The effect of scalable PDMS gas-entrapping microstructures on the dynamics of a single cavitation bubble. Scientific Reports. 2022;12(1):20379.
Robles V, Gutierrez-Herrera E, Devia-Cruz L, Banks D, Camacho-Lopez S, Aguilar G. Soft material perforation via double-bubble laser-induced cavitation microjets. Physics of Fluids. 2020;32(4):042005.