Professor, Industrial & Systems Engineering
TEES Faculty Fellow
Affiliated Faculty, Biomedical Engineering and Materials Science & Engineering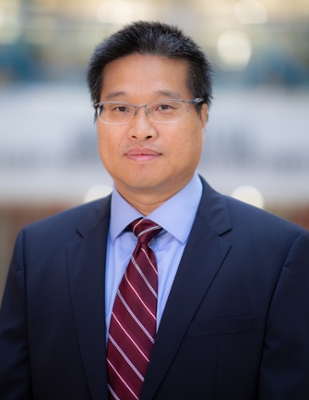 Educational Background
Ph.D., Industrial & Manufacturing Engineering, Florida State University - 2006
Research Interests
Additive manufacturing
Bio/nano-manufacturing
Brain-inspired Artificial Intelligence (AI) and AI-integrated manufacturing
Decarbonization of the manufacturing process
Certifications & Memberships
American Society of Mechanical Engineers (ASME)
Society of Manufacturing Engineering (SME)
Institute of Industrial and Systems Engineers (IISE)
Materials Research Society (MRS)
Awards & Honors
Faculty Fellow, Texas A&M Engineering Experiment Station (TEES), 2022-23
Jill and Charles F. Milstead '60 Faculty Fellow, Texas A&M University, 2020-22
Ed and Linda Whitacre Faculty Fellow, 2012-15
CAREER Award, National Science Foundation (NSF), 2010-15
Summer Fellowship, Air Force Office of Scientific Research (AFOSR), 2010
3M Non-tenured Faculty Award, 2009, 2010, 2011
Summer Institute Fellowship, NSF, 2008
Selected Publications
Z. Zhang, C. Gao, R. Liu, W. Li, J. Qiu, S. Wang, catalyzed frontal polymerization-enabled printing of freestanding thermosets ,Additive Manufacturing Letters 2,100030 (2022).
W. Li, J. Ma., J. Qiu, S. Wang, Thermocells for low-grade heat harvesting: challenge, progress and prospect, Materials Today Energy , 27, 101032 (2022).
C. Gao, S. Wang, In-situ curing of 3D printed freestanding thermosets, Journal of Advanced Manufacturing and Processing https://doi.org/10.1002/amp2.10114 (2022).
C. Gao, S. Wolff, S. Wang, Eco-friendly additive manufacturing of metal structure, Journal of Manufacturing Systems 60, 459-472 (2021).
Z. Zhang, R. Liu, W. Li, Y. Liu, L. Zeng, J. Qiu, S. Wang, Direct writing of continuous carbon fiber/epoxy thermoset composites with high strength and low energy-consumption,Additive Manufacturing,47, 102348 (2021).
Q. Wu, X. Deng, S. Wang & L. Zeng. Constrained varying coefficient model for time course experiments in soft tissue fabrication, Technometrics, 63, 249-262 (2021).