Professor, Industrial & Systems Engineering
Department Head, Industrial & Systems Engineering
Sugar and Mike Barnes Department Head Chair, Industrial & Systems Engineering
Phone:

979-845-5535

FAX:

979-458-4299

Email:

Ntaimo@tamu.edu

Office:

ETB 4029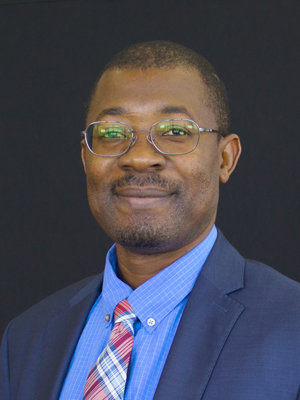 Educational Background
Ph.D., Systems & Industrial Engineering (Minor: Electrical & Computer Engineering), University of Arizona - 2004
M.S., Mining & Geological Engineering, University of Arizona - 2000
B.S., Mining Engineering, University of Arizona, Tucson - 1998
Research Interests
Stochastic integer programming methods and applications.

Stochastic optimization and simulation with application to manufacturing, healthcare, wildfire management, mining engineering, etc.
Systems modeling, design and engineering processes.
Awards & Honors
2016 Best Publication Award in Natural Resources, INFORMS Section on Energy, Natural Resources, and the Environment.
2016 Marilyn and L. David Black Faculty Fellow in Industrial and Systems Engineering, Texas A&M University.
2015 INFORMS Computing Society (ICS) Prize awarded for seminal work on stochastic mixed-integer programming.
2010 George Armistead, Jr. '23 Faculty Fellow, Texas A&M University.
2010 Donna and Jim Furber '64 Faculty Fellowship, Industrial and Systems Engineering, Texas A&M University.
Selected Publications
Byon, E., L. Ntaimo and Y. Ding, "Optimal Maintenance Strategies for Wind Turbine Systems under Stochastic Weather Conditions," IEEE Transactions on Reliability, Vol. 59, No. 2, pp. 393-404, 2010.
Ntaimo, L., "Disjunctive Decomposition for Two-Stage Stochastic Mixed-Binary Programs with Random Recourse," Operations Research, Vol. 58, No.1, pp. 229-243, 2010.
Ntaimo, L. "Fenchel Decomposition for Stochastic Mixed-Integer Programming," Journal of Global Optimization, Vol. 55, pp. 141–163, 2013.
Gallego, J.A.*, L. Ntaimo and C. Stripling, "Wildfire Initial Response Planning Using Probabilistically Constrained Stochastic Integer Programming," International Journal of Wildland Fire, Vol. 23, pp. 825-838, 2014.
Alvarado, M.M. and L. Ntaimo, "Chemotherapy appointment scheduling under uncertainty using mean-risk stochastic integer programming," Health Care Management Science, 2016. DOI: 10.1007/s10729-016-9380-4.