Professor of Practice, Industrial & Systems Engineering
Faculty, TEES Center for Remote Health Technologies and Systems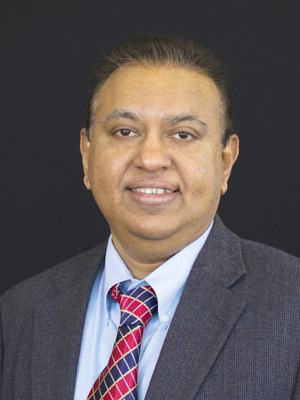 Educational Background
Ph. D., Industrial Engineering, Texas A&M University - 1996
M. Tech., Industrial Engineering, National Institute of Industrial Engineering (NITIE), Bombay, India - 1989
Research Interests
Experience

Machine learning and artificial intelligence applications to health care and supply chain management. Focus areas include diabetes, maintenance planning and wearable sensor applications.
Senior research scientist at Knowledge Based Systems Inc. 
Principal data scientist at AT&T
Over 25 years experience in data mining, knowledge based systems, machine learning, optimization, simulation and scheduling
Principal investigator for multiple Small Business Innovative Research (SBIR) Phase I, II and III projects from the Department of Defense, the Department of Health and Humans Services (HHS) and NASA.
He hosts two national level surveillance systems for HHS on blood inventory management and donor hemovigilance.
At AT&T, he worked on developing analytics to support activities of daily life in smart homes.
At i2 Technologies, he developed analytics to facilitate point of sale data (POS) analysis and customer relationship management (CRM) for a major retailor.
Industry Experience
Senior research scientist at Knowledge Based Systems
Advanced member of Technical Staff at i2 Technologies
Certifications & Memberships
Professional Engineer in the state of Texas (PE)
Institute of Industrial and Systems Engineers (IISE)
Selected Publications
Erraguntla, Madhav, Darpit Dave, Josef Zapletal, Kevin Myles, Zach N. Adelman, Tyler D. Pohlenz, and Mark Lawley. "Predictive model for microclimatic temperature and its use in mosquito population modeling." Scientific Reports 11, no. 1 (2021): 1-11.
Guy L. Curry, Hiram Moya, Madhav Erraguntla & Amarnath Banerjee. "Transient Queueing Analysis for Emergency Hospital Management," IISE Transactions on Healthcare Systems Engineering (2021), DOI: 10.1080/24725579.2021.1933655.
Dave, Darpit, Madhav Erraguntla, Mark Lawley, Daniel DeSalvo, Balakrishna Haridas, Siripoom McKay, and Chester Koh. "Improved Low-Glucose Predictive Alerts Based on Sustained Hypoglycemia: Model Development and Validation Study." JMIR diabetes 6, no. 2 (2021): e26909. URL: https://diabetes.jmir.org/2021/2/e26909. DOI: 10.2196/26909.
Zapletal, Josef, Neda Najmitabrizi, Madhav Erraguntla, Mark A. Lawley, Kevin M. Myles, and Zach N. Adelman. "Making gene drive biodegradable." Philosophical Transactions of the Royal Society B 376, no. 1818 (2021): 20190804. http://doi.org/10.1098/rstb.2019.0804.
Zhu, Yibo, Ranjana K. Mehta, Madhav Erraguntla, Farzan Sasangohar, and Khalid Qaraqe. "Quantifying Accelerometer-based Tremor Features of Neuromuscular Fatigue in Healthy and Diabetic Adults." IEEE Sensors Journal (2020), doi: 10.1109/JSEN.2020.2996372.
Tyagi, Oshin, Yibo Zhu, Connor Johnson, Ranjana K. Mehta, Farzan Sasangohar, Madhav Erraguntla, and Khalid Qaraqe. "Neural Signatures of Handgrip Fatigue in Type 1 Diabetic Men and Women." Frontiers in Human Neuroscience 14 (2020): 477.
Zhu, Yibo, Jagadish K. Jayagopal, Ranjana K. Mehta, Madhav Erraguntla, Joseph Nuamah, Anthony D. McDonald, Heather Taylor, and Shuo-Hsiu Chang. "Classifying major depressive disorder using fNIRS during motor rehabilitation." IEEE Transactions on Neural Systems and Rehabilitation Engineering 28, no. 4 (2020): 961-969.
Dave, Darpit, Daniel J. DeSalvo, Balakrishna Haridas, Siripoom McKay, Akhil Shenoy, Chester J. Koh, Mark Lawley, and Madhav Erraguntla. "Feature-Based Machine Learning Model for Real-Time Hypoglycemia Prediction." Journal of Diabetes Science and Technology (2020). https://doi.org/10.1177/1932296820922622.
Abbas, Hasan T., Lejla Alic, Madhav Erraguntla, Jim X. Ji, Muhammad Abdul-Ghani, Qammer H. Abbasi, and Marwa K. Qaraqe. "Predicting long-term type 2 diabetes with support vector machine using oral glucose tolerance test." Plos one 14, no. 12 (2019). https://doi.org/10.1371/journal.pone.0219636.
McGowan, Craig J., Matthew Biggerstaff et al. "Collaborative efforts to forecast seasonal influenza in the United States, 2015–2016." Scientific reports 9, no. 1 (2019): 1-13.
Erraguntla, M, Land, K, Tomasulo, P, Kamel, H, Bravo, M, Whitaker, B. "Delayed and Immediate Vasovagal Reaction Characterization," International Hemovigilance Seminar, Brussels, 2013.
Erraguntla, M., Gopal, B., Ramachandran, S., Mayer, R. J. 2012, "Inference of Missing ICD9 Codes Using Text Mining and Nearest Neighbor Techniques," Hawaii International Conference on System Sciences, 2012.
Erraguntla, M., May, L., Gopal, B., Mayer, R. J. Benjamin, P. C. 2012, "Open Data Sources Based Biovigilance," ICAI'12 - The 2012 International Conference on Artificial Intelligence, Las Vegas, CA.