Metal AM Laboratory Overview
The Metal AM lab is equipped to generate 3D models, render machine build-code, manufacture metal AM parts, and recycle metal powder. The technology in use is Selective Laser Melting, where fine metal particles are melted and re-solidified together layer by layer. This process opens new opportunities for research and production of novel designs.
Location: THOM 112B
Contact: For research & collaboration questions, appropriate faculty are listed below
Operating Hours: 8 a.m. - 5 p.m. M–F by appointment only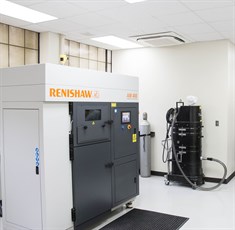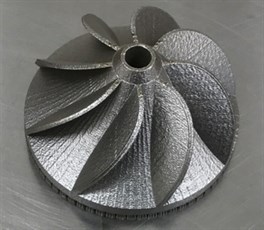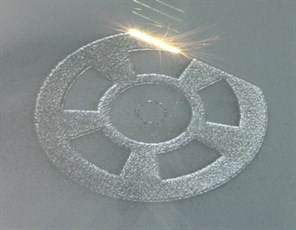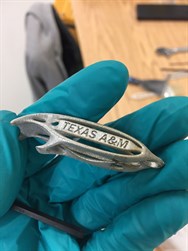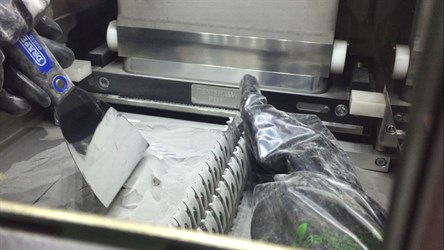 Process to build metal parts in the AM lab
The researcher designs a part.

To understand how to make a part that is appropriate for metal additive manufacturing, see the videos on the AM build process in order to understand what a successful design.

The researcher estimates initial cost of their part.

For instructions to estimate the cost of your build, see the video on estimating the volume of powder and time required to build your parts. Then, input this info to your estimating your cost.
For access to QuantAM software, the researcher can visit the student computing center (Thompson 107) and set up a build. For long-term projects, ETID can temporarily lend a QuantAM license for the researcher's computer.

The researcher proposes a build orientation and support strategy by creating an .amx file and submitting it to the lab coordinator by email.

By submitting your build file (.amx extension), the parts, desired quantity, desired orientation, and parameters are communicated.
The STL file(s) should be sent, with unique version number in the file name. (for example, (golfBall v1.0.stl)

The lab coordinator reviews the parts for feasibility, and discusses proposed changes with the researcher.
The lab coordinator collaborates with teams to combine builds if possible, and schedule a build time. The cost of the build can be reduced when parts are combined into 1 build.
Post-Build Steps
Part Removal:

If you designed a part that can be removed manually, you'll receive access to the lab and some hand tools to remove your parts from the build plate.
If your part will require wire EDM, ETID has a lab for wire EDM jobs which will need to be scheduled with the appropriate lab coordinator for that lab:

Parts Photographs

You are encouraged to thoroughly document your process and take photographs of your parts. Historically, researchers wish they had taken more photos.
Staff and Faculty members of ETID have access to the photos taken by the AM lab coordinator of each build for record-keeping, located here:

S:\TEMP\Additive Manufacturing Lab\Completed Jobs
Frequently Asked Questions
What is the build volume of the metal AM machine?

250 width x 250 depth x 300 height (mm), with 30mm radius


How long does it take to build a part?

Example: 1 Golf ball takes 14.1 hours


How much do parts cost?

This depends on part volume, orientation, and whether the parts are being built on a shared build.
Example: Golf Ball with supports & 2mm wall thickness.

On a Solo Build, $490 each. On a build of 16, $182 each.
Fully solid golf ball on a solo build: $772

What is the density of the final part?

Parts made using the SLM process achieve about 98% of the density of a cast part without any postprocessing.

What materials can be printed?

The machine is configured for Stainless Steel 316L powder and material changeover is a major undertaking.
The Reduced Build Volume (RBV) accessory unit allows rapid powder change for small builds. Currently the RBV is undergoing maintenance (as of 2019/04) and when it is back online, metals will be available including Inconel 718 (in stock), Titanium, Nickel Aluminum, Inconel, and more.  New materials are continuously being studied by the industry to characterize the best parameters for use in a laser melting machine like ours.

What is the size of the Reduced Build Volume?

78 mm width × 78 mm depth × 55 mm height.


What parameters can be manipulated in a build?

Essentially, several factors that ultimately impact power density can be adjusted. Parameter deviation outside of Manufacturer recommended settings is not permitted unless the researcher demonstrates thorough evaluation of the proposed settings, for safety reasons.
Active Faculty Members in the AM Lab
The following faculty members of ETID have research teams with expertise in the described areas.  If you are interested in partnering in a research project, please contact the professor with your area of interest.