Associate Professor, Engineering Technology & Industrial Distribution,
Associate Department Head, Research and Graduate Studies,
Manufacturing & Mechanical Engineering Technology,
Director, Master of science in Engineering Technology,
Affiliated Faculty, Multidisciplinary Engineering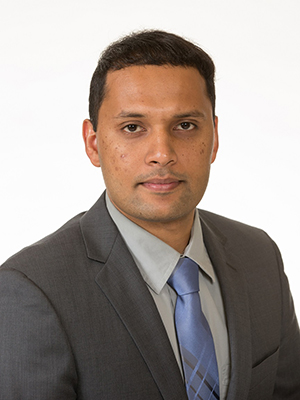 Educational Background
Ph.D., Materials Science and Engineering, Clemson University – 2012
M.S., Mechanical Engineering, University of Detroit Mercy – 2005
B.Tech., Mechanical (Automobile) Engineering, University of Kerala – 2002
Research Interests
Additive Manufacturing
Subtractive Manufacturing
SLS of Pharmaceuticals and Dental Implants
Bioinspired Functionally-Graded Materials
Tribology and Surface Coatings/Texturing
Engineering Education
Awards & Honors
Faculty Paper Award (3rd place), ASEE Gulf-Southwest (GSW) Annual Conference, Richardson, TX, 2017.
AggiE-Challenge Champion, Texas A&M University, 2015-16, 2016-17, 2017-18.
Best Division Moderator Award - Engineering Technology Division, Sustainable Perspectives for Engineering Technology Session, ASEE Conference for Industry & Education Collaboration (CIEC), 2014
Teaching Excellence Award, Dept. of Engineering Technology & Industrial Distribution, Texas A&M University, 2014
Corrie & Jim Furber '64 Faculty Fellow in Engineering Technology & Industrial Distribution, Texas A&M University, 2014
Faculty Fellow for Innovation in High-Impact Learning Experiences, Office of the Associate Provost for Undergraduate Studies, Texas A&M University, 2014
Outstanding Young Alumni Award, College of Engineering & Science, Clemson University, 2014
2 journal papers among the "Top 10 Most Downloaded Articles" in the ASME Journal of Manufacturing Science & Engineering, Sep/Oct-2012
Selected Publications
Mehta, P.M., Rao, P., Wu, Z., Jovanovic, V., Wodo, O., Kuttolamadom, M.A. (2018) "Smart Manufacturing: A State-of-the-Art Review in Context of Conventional & Modern Manufacturing Process Modeling, Monitoring & Control," MSEC2018-6658, Proceedings of the American Society of Mechanical Engineers (ASME) 2018 International Manufacturing Science & Engineering Conference (MSEC 2018), College Station, TX.
Patel, S.*, Kuttolamadom, M.A. (2017) "Powder Roll-Compaction Process for Controlling Grain Orientation Texture & Size in Spark Plasma Sintered Carbides," Materials Letters, 211, Jan. 2018, pp. 153-156, https://doi.org/10.1016/j.matlet.2017.10.002.
Danda, A.*, Kuttolamadom, M.A., Tai, B.L. (2017) "A Mechanistic Force Model for Simulating Haptics of Hand-Held Bone Burring Operations," Medical Engineering & Physics, Institute for Physics & Engineering in Medicine (IPEM), 49, Nov. 2017, pp. 7-13, https://doi.org/10.1016/j.medengphy.2017.06.041.
Kuttolamadom, M.A., Jones, J., Mears, M.L., Oehsen, J.V., Kurfess, T.R., Ziegert, J.C. (2017) "High Performance Computing Simulations to Identify Process Parameter Designs for Profitable Titanium Machining," Special Issue on High Performance Computing & Data Analytics for Cyber Manufacturing, Society of Manufacturing Engineers (SME) Journal of Manufacturing Systems, 43(2), Apr. 2017, pp. 235-247, http://dx.doi.org/10.1016/j.jmsy.2017.02.014.
Mehta, P.M., Kuttolamadom, M.A., Mears, M.L. (2016) "Mechanistic Force Model for Machining Process - Theory & Application of Bayesian Inference," The International Journal of Advanced Manufacturing Technology, 91(9-12), Aug. 2017, pp. 3673-3682, https://doi.org/10.1007/s00170-017-0064-0.