The Bachelor of Science program in Electronic Systems Engineering Technology is accredited by the Engineering Technology Accreditation Commission of ABET, https://www.abet.org, under the General Criteria and the Program Criteria for Electrical/Electronic(s) Engineering Technology and Similarly Named Programs.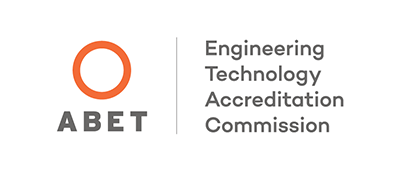 Vision Statement
To be a nationally recognized educational leader in innovative electronic product/systems development and applied research solutions.
Mission Statement
The Electronic Systems Engineering Technology program prepares graduates for immediate impact and long-term career success by providing a real-world experiential education coupled with personalized undergraduate experiences in electronics product development, test, system integration, and engineering research.
Program Educational Objectives
The Electronic Systems Engineering Technology Program at Texas A&M has as its program educational objectives to produce graduates who, after three to five years:
Possess the technical skills to be productive, innovative, and have successful careers in regional, state, national and global electronic product and system development industries.

Demonstrate increasing levels of leadership, teamwork, and be able to communicate technical information to technical and non-technical stakeholders.

Exhibit a commitment to professional ethics in their careers.

D

isplay a desire for a lifetime of further challenges and learning, and flexibility to adapt to a fast-changing environment in engineering industries.
Student Outcomes
At the time of graduation, an Electronic Systems Engineering Technology student has:
an ability to apply knowledge, techniques, skills and modern tools of mathematics, science, engineering, and technology to solve broadly-defined engineering problems appropriate to the discipline;
an ability to design systems, components, or processes meeting specified needs for broadly-defined engineering problems appropriate to the discipline;
an ability to apply written, oral, and graphical communication in broadly-defined technical and non-technical environments; and an ability to identify and use appropriate technical literature;
an ability to conduct standard tests, measurements, and experiments and to analyze and interpret the results to improve processes; and
an ability to function effectively as a member as well as a leader on technical teams.
Undergraduate Program Enrollment and Graduation Data
| Academic Year | Fall Semester Undergraduate Enrollment | Academic Year Bachelor's Degrees Awarded |
| --- | --- | --- |
| 2023-24 | 475 | N/A |
| 2022-23 | 393 | 131 |
| 2021-22 | 384 | 105 |
| 2020-21 | 396 | 84 |
| 2019-20 | 319 | 54 |
| 2018-19 | 281 | 73 |
Enrollment=Fall Semester of Academic Year
Degrees Awarded=Fall, Spring & Summer of Academic Year (e.g., Fall 22, Spring 23, Summer 23)
Source: Office of Academic & Business Performance Analytics, Texas A&M University