Survey Camp is an Old Army tradition that was discontinued in the 1980s only to be reinstated in 2002 with a whole new structure. Now, Survey Camp, CVEN 403: Applied Civil Engineering Surveying, is a two-week course between the spring and summer semesters that consists of six days in the computer lab and five days out at Texas A&M University's RELLIS campus. Each day is at least eight hours long and full of hands-on experience with surveying and map preparation. Teams of four students get to work with practicing surveyors and use their equipment out in the field.
Carlos Cotton, the chief operating officer at Jones & Carter Inc. and an instructor for Survey Camp, says he believes that the camp provides a necessary foundation for any engineer.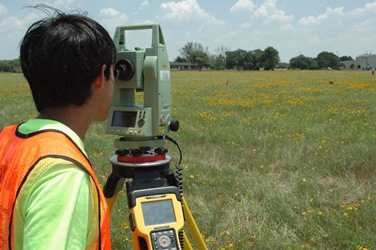 "I tell the students that all successful engineering projects begin with good surveying (topographical surveys) and end with good surveying (construction staking)," Cotton said. "While this course can't make expert surveyors, it does teach them how surveying is applied to engineering projects and what they need to know in order to review survey data."
In the computer lab students learn software such as AutoCAD and Carlson Survey. The students use these programs to take data collected from the field and develop topographical maps and to draw boundary and plat maps.
"Hopefully this course will also inspire some graduating engineers to pursue a surveying career and work towards a dual registration in engineering and surveying," Cotton said.