Professor, Computer Science & Engineering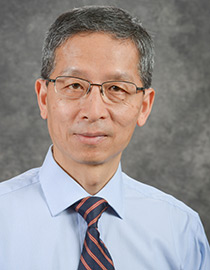 Educational Background
PH.D., Electrical & Computer Engineering, University of Michigan, 1989
M.S., Electrical Engineering, The National Cheng Kung University, Taiwan, 1981
B.S., Electrical Engineering, The National Cheng Kung University, Taiwan, 1979
Research Interests
Real-time distributed computing systems
Behavior Modeling and Simulation
Cyber Physical Systems Security
Awards & Honors
Senior Member: IEEE Computer Society 2014, IEEE Computer Society, Communication Society, Signal Processing Society
Nominated for the 2013 ACM Eugene L. Lawler Award for Humanitarian Contributions within Computer Science and Informatics
General Co-chair, 13th IEEE Real-time and Embedded Technology and Applications Symposium, 2007
Program Co-chair, 12th IEEE Real-time and Embedded Technology and Applications Symposium, 2006
Executive Committee member of the IEEE Technical Committee on Real-Time Systems for 2007-2008
Selected Publications
Guoyu Fu and Jyh-Charn Liu, "Order of Pseudoranges (OOP) of GNSS Systems: Spatial Modeling and Analysis," 2015 ION GNSS.
Guoyu Fu, Lingjun Pu and Jyh-Charn Liu, "Line-Of-Sight Based Multipath Avoidance for GNSS Signals: Data Structures and Algorithms," 2015 ION GNSS.
J. Pecarina, M Fu, Jyh-Charn Liu, "Observation and Mitigation of Causal Re-Ordering in Distributed Business Process Logs," The 2015 International Conference on Collaboration Technologies and Systems (CTS 2015), nominated for best paper.
S. George, X. Wang, and J.-C. Liu, "MECH: A Model for Predictive Analysis of Human Choices in Asymmetric Conflicts," The International Conference on Social Computing, Behavior-Cultural Modeling and Prediction (SBP) 2015, Washington D.C. (2015).
Dobreva, I.D., Bishop, M.P., Liu, J.C., Liang, D., "Development, Evaluation and Parallelization of a Spatio-Temporal, Topographic, and Spectral GIS-Based Solar Radiation Model (extended abstract)," 13th Int'l Conf. on GeoComputation Geospatial Information Sciences The Univ. of Texas at Dallas, May 2015.
Hao Wang, Shi Pu, Gabe Knezek, and Jyh-Charn Liu, "MIN-MAX: A Counter-Based Algorithm for Regular Expression Matching," IEEE Transactions on Parallel and Distributed Systems, Jan. 2013 (vol. 24 no. 1), pp. 92-103.