Professor, Computer Science & Engineering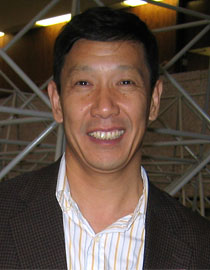 Educational Background
Ph.D. Mathematics, Columbia University, 1990
Ph.D. Computer Science, New York University, 1987
M.Phil. Mathematics, Columbia University, 1990
M.A. Mathematics, Columbia University, 1989
M.S. Computer Science, New York University, 1984
B.S. Computer Science, CSUT, P.R. China, 1982
Research Interests
Algorithms and complexity
computer graphics
bioinformatics
computer networks
Awards & Honors
AFS Distinguished Faculty Achievement Award (university level), Texas A&M University, 2007
AFS Distinguished Faculty Achievement Award (college level), Texas A&M University, 2006
E.D. Brockett Professorship Award, College of Engineering, Texas A&M University, 2005
Eugene E. Webb '43 Faculty Fellow, Texas A&M University, 2003
AFS Distinguished Faculty Achievement Award (college level), Texas A&M University, 1998
Amoco Faculty Award, Texas A&M University, 1998
TEES Select Young Faculty Award, Texas A&M University, 1993
Research Initiation Award, The National Science Foundation, 1991
Janet Fabri Award, for Best Ph.D. Dissertation, New York University, 1988
First Place Mathematics Competition, Hunan, P.R. China, 1980
Selected Publications
Y. Cao and J. Chen, "On Feedback Vertex Set: New Measure and New Structures," Algorithmica 73, pp. 63-86, 2015.
J. Chen, J.-H. Fan, and S.-H. Sze, "Parameterized and Approximation Algorithms for Maximum Agreement Forest in Multifurcating Trees," Theoretical Computer Science 562, pp. 496-512, 2015.
J. Chen, Y. Liu, S. Lu, S.-H. Sze, and F. Zhang, "Iterative Expansion and Color Coding: an Improved Algorithm for 3D-Matching," ACM Transactions on Algorithms 8-6, 2012.
J. Chen, J. Kneis, S. Lu, D. Molle, S. Richter, P. Rossmanith, S.-H. Sze, and F. Zhang, "Randomized Divide-and-Conquer: Improved Path, Matching, and Packing Algorithms," SIAM Journal on Computing, pp. 2526-2547, 2009.
J. Chen, Y. Liu, S. Lu, B. O'Sullivan, and I. Razgon, "A Fixed-Parameter Algorithm for the Directed Feedback Vertex Set Problem," Journal of the ACM 55(5), 2008.