Professor, Computer Science & Engineering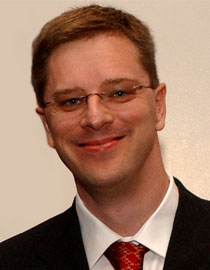 Educational Background
Ph.D. Computer Science, University of Karlsruhe
Diplom. Computer Science, University of Karlsruhe
Research Interests
Quantum computing
Image processing
Cryptography
Awards & Honors
Best Paper Award, ICQNM 2009
Halliburton Faculty Fellow, 2007
National Science Foundation CAREER award, 2004
TEES Select Young Faculty award, 2004
Fellow-at-Large, Santa Fe Institute, 2000
Selected Publications
A. Klappenecker, M. Rötteler, I. Shparlinski, A. Winterhof, "On Approximately Symmetric Informationally Complete Positive Operator-Valued Measures and Related Systems of Quantum States," J. Math, Physics, 46, (17 pages), 2005.
A Klappenecker, M. Rötteler, "Mutually Unbiased Bases are Complex Projective 2-Designs," Proc. 2005 IEEE International Symposium on Information Theory, Adelaide, Australia, pp. 1740-1744, 2005.
A. Klappenecker, M. Rötteler, "On the Monomiality of Nice Error Bases," IEEE Trans. Inform. Theory, 51(3), pp. 1-6, 2005.
G. Song, A. Klappenecker, "Optimal Realizations of Simplified Toffoli Gates," Quantum Information and Computation 4(5), pp. 361-372, 2004.
A. Klappenecker, M. Rötteler, "Discrete Cosine Transforms on Quantum Computers," Proceedings of the 2nd International Symposium on Image and Signal Processing and Analysis, Pula, Croatia, June 19-21, 2001, S. Loncaric, H. Babic (eds.), pages 464-468, IEEE, 2001.