Professor of Practice, Biomedical Engineering
Director, Undergraduate Programs, Biomedical Engineering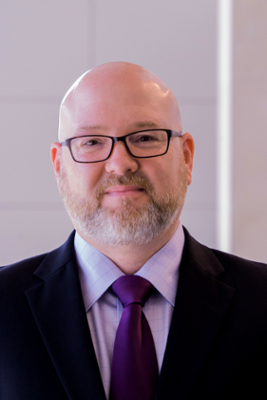 Educational Background
Ph.D., Chemical Engineering, Rice University – 1994
Industry Experience
Dr. Patrick has worked in higher education for 34 years at state and private universities and a NCI comprehensive cancer hospital. After his Ph.D., he completed a two-year postdoctoral fellowship in tissue engineering at Rice University's J.W. Cox Laboratory for Biomedical Engineering. He then worked for 13 years at the University of Texas M.D. Anderson Cancer Center as a research professor. He directed the Department of Plastic and Reconstructive Surgery's clinical translation program (tissue engineering applications), directed institutional core facilities, chaired M.D. Anderson's Department of Biomedical Engineering, and co-chaired the tri-institutional Department of Biomedical Engineering between M.D. Anderson Cancer Center, University of Texas at Austin and University of Texas Health Sciences Center.

His former research at M.D. Anderson Cancer Center focused on development of tissue-engineered adipose tissue for soft tissue augmentation and post-mastectomy breast reconstruction, bioactive nerve conduits for peripheral nerve repair, bioactive materials for mandible reconstruction, tissue-engineered cartilage for trachea repair, and angiogenesis in tissue-engineered constructs, including micro- and nano-textured biomaterials, microfluidics, delivery of bioactive factors and mathematical modeling of revascularization.

He has served as a consultant for various private and Fortune 500 engineering and global pharmaceutical, medical device, medical therapy and biotechnology companies, as well as for government agencies and private foundations. Prior to joining Texas A&M, he completed serving 10 years as director of operations and vice president of Southwestern Seminary, overseeing strategic projects that included national and international educational partnerships, launching two new schools in the university, multiple capital projects, including constructing three instructional buildings, and serving also as professor teaching ethics to graduate students and modern sciences with contemporary case studies to undergraduate students. He has over 130 archival publications, two patents, and multiple awards for research and teaching.

His current research within the Ideas to Innovation Engineering Education Excellence Laboratory focuses on enhancing undergraduate and graduate student learning, engagement and workforce development by transforming biomedical engineering education through scholarship and research of innovative teaching and learning practices and technologies.