Assistant Professor, Biomedical Engineering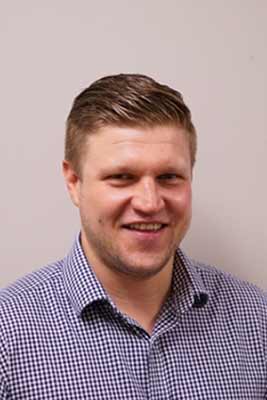 Educational Background
Ph.D., Biological Chemistry, Manchester Institute of Biotechnology – 2012
Research Interests
Research areas: Nanotechnology, medical devices, biosensors, biomaterials

Dr. Samuel Mabbott's research focuses on the development of metallic nanoparticles for use in biomedical devices and healthcare settings. Applications include: integration into point of care devices for sensitive detection of disease relevant biomolecules such as circulating miRNA; controlling the nanoparticles light-to-heat conversion (photothermal) efficiency for destruction of diseased tissues (eg. tumors); localized delivery of miRNA for gene therapy; increasing the therapeutic effect of drugs; biological and chemical signal amplification.

Fundamentally the research aims to answer two questions:

How can we better understand nanoparticle synthesis to promote beneficial properties?
How can these properties be utilized in healthcare?
Certifications & Memberships
MRSC Royal Society of Chemistry
Member of American Chemical Society
Member of Society for Applied Spectroscopy
Member of CLIRSPEC
Member of Biomedical Engineering Society
Awards & Honors
CLIRSPEC younger members travel award to attend and present at SCIX 2016, Minneapolis
Nufeld gold award for the best high school student project, 2016
Images of research 1st prize, Manchester University, 2012