Professor, Biomedical Engineering
Affiliated Faculty, Materials Science & Engineering and Physics & Astronomy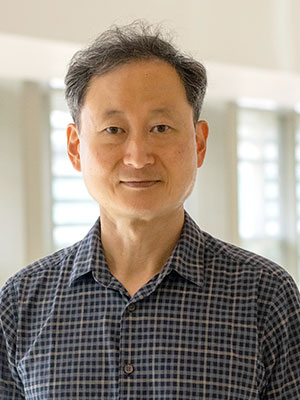 Educational Background
Ph.D., Physics, Boston University – 2001
Research Interests
Research areas: Biomolecular simulation, computational biophysics/immunology, bioimage analysis

Dr. Wonmuk Hwang studies dynamics of biomolecules that carry out essential functions in the human body, for which he uses computer simulation and theoretical analysis as main research modality. Biomolecular simulation utilizing supercomputers plays an increasingly important role in frontier biomedical research.

Hwang explores a wide range of problems including: motor proteins that carry out intracellular transport and cell division; mechanics of biofilament assemblies; molecular basis for the adaptive immune system; and automated bioimage analysis and model building. With strong collaboration with experimentalists, Hwang advances fundamental knowledge in biology and biophysics that in turn may lead to novel therapeutics and biotechnology applications.