Professor, Biomedical Engineering
Charles H. and Bettye Barclay Professor in Engineering
Affiliated Faculty, Chemistry and Materials Science & Engineering
Presidential Impact Fellow
Chancellor's EDGES Fellow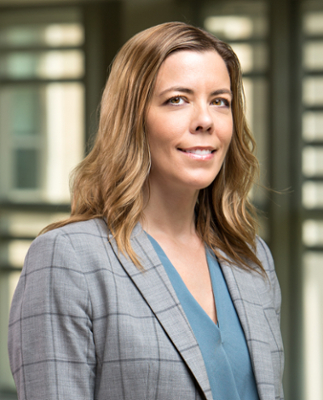 Educational Background
Ph.D., Chemistry, University of Southern California, Los Angeles – 2004
Research Interests
Research areas: Biomaterials, medical devices, tissue engineering 

Dr. Melissa A. Grunlan's laboratory focuses on developing new polymeric biomaterials for medical devices and regenerative therapies (i.e. tissue engineering).

"Hybrid" systems based on combining inorganic and organic polymers are produced as coatings, hydrogels, elastomers and porous foams. Chemical, surface, mechanical and thermal properties are evaluated with a variety of techniques.

Current projects are focused on developing self-cleaning membranes for implanted biosensors, clot-resistant coatings for blood-contacting devices and scaffolds for bone repair and for the regeneration of osteochondral interfaces.
Awards & Honors
Distinguished Service Award, American Chemical Society PMSE Division, 2021
Fellow, American Chemical Society, 2019
Fellow, American Institute for Medical and Biological Engineering, 2018
Engineering Outstanding Contributions Award (William O. and Montine P. Head Memorial Research Fund), College of Engineering, 2018
Guest Professor, University of South Brittany, Lorient, France, 2017
Dean of Engineering Excellence Award – Assoc. Prof. Level, Texas A&M University, 2016-17
Royal Academy of Engineering Distinguished Visiting Fellowship, Imperial College London, 2015
Short-term Visiting Scientist Fellowship, National Institute for Materials Science; Tsukuba, Japan, 2015
Association of Former Students Distinguished University Level Award in Teaching, Texas A&M University, 2015-16
Association of Former Students Distinguished College Level Award in Teaching, College of Engineering, 2009-10 and 20-2016
Texas A&M Engineering Experiment Station Faculty Fellow, College of Engineering, 2013-14
British Petroleum (BP) Teaching Excellence Award, College of Engineering 2012-13
Herbert H. Richardson Faculty Fellow Award, College of Engineering, 2010-11
Doctoral Research Award, University of Southern California, College of Letters, Arts & Sciences, 2005