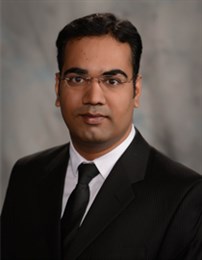 Educational Background
Postdoctoral, Massachusetts Institute of Technology and Harvard University
Ph.D., Biomedical Engineering, Purdue University
M.Tech, Materials Science, Indian Institute of Technology-Bombay
B.E., Metallurgical Engineering, National Institute of Technology–Nagpur
Research Interests
Dr. Akhilesh K. Gaharwar is an assistant professor in the Department of Biomedical Engineering at Texas A&M University. His Inspired Nanomaterials and Tissue Engineering (iNanoTE) Laboratory focuses on designing, developing and integrating biomimetic nanostructures and stem cells for functional tissue engineering that have potential for clinical translation.

His research spans diverse fields, including materials science, chemistry, stem cells biology and microfabrication of polymeric biomaterials and nanocomposites. Specifically, his laboratory is developing biomimetic nanomaterials with native interface tissue-like gradient in physical and chemical properties; integrating advanced micro- and nano- fabrication technologies to mimic native interface tissue architecture; and directing stem cell behavior to obtain regionalized tissue constructs in vitro and in vivo. This integrated approach brings together a range of seemingly disparate disciplines that will address some of the complexity associated with engineering functional tissue interfaces in a manner that is otherwise not possible.

Current projects are focused on designing "bioactive" nanomaterials for regenerating damaged tissue interfaces; developing vascularized network; and devising new therapeutic strategies, especially in musculoskeletal applications.
Awards & Honors
2013 Merit Award, Orthopedic SIG, Society For Biomaterials
Editorial Board Member, "Scientific Reports – Nature" (Jan 2013)
2013 CMBE - BMES Rising Star/Fellows
2012 ACTA Student Award
2011 Materials Research Society Graduate Research Silver Award
2011 Biomedical Engineering Society Graduate Research Award
2010 Dimitris Chorafas Foundation Award for Outstanding Ph.D. Dissertation
2010 Society For Biomaterials STAR (Student Travel Achievement Recognition)
2005/06 Deutscher Akademischer Austausch Dienst (DAAD), Fellowship (Germany)
2004 Ministry of Human Resource Development Scholarship" (India)