Professor, Biomedical Engineering
Director, Center for Remote Health Technologies and Systems
Regents Professor
James J. Cain Professor I
Affiliated Faculty, Electrical & Computer Engineering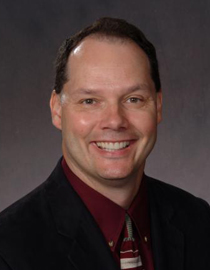 Educational Background
Ph.D., Bioengineering, University of Connecticut, Storrs – 1990
Research Interests
Research areas: Biomedical sensing and imaging, biomedical optics, biosensors, point-of-care medical devices, micro/ nanotechnology 

Dr. Gerard L. Coté holds the James J. Cain Professorship in Biomedical Engineering at Texas A&M University. In addition, Dr. Coté is director of the Center for Remote Health Technologies and Systems. His primary research interests include the use of optics for medical diagnostics and biomedical sensing.

In particular, the research within his lab focuses on the development of macro-scale to nano-scale biomedical systems and point-of-care devices using lasers, optics and electronics. Some research applications include development of innovative, noninvasive and minimally invasive ways to test blood sugar levels in diabetes; to detect other body chemicals such as cardiac biomarkers for cardiovascular disease or blood toxins such as PCBs or BPA; use of cell phone technology to detect malaria at the point of care; and to monitor perfusion and oxygenation for tissue implants and wearable devices.

The research is multidisciplinary and involves several investigators from across the world including medical doctors, life science faculty, faculty from other engineering disciplines, national laboratory staff and industry personnel.
Awards & Honors
Fellow of the Institute of Electrical and Electronics Engineers
Fellow of SPIE (International Society for Optics and Photonics)
Fellow of the Biomedical Engineering Society
Fellow of the American Institute for Medical and Biological Engineering
Texas A&M University System Patent Award: Spring 2011
AFS Distinguished Achievement Award for Research: Spring 2011
The University of Connecticut School of Engineering Academy of Distinguished Engineers: 2005
AFS Faculty Fellow Award: 2004-2005
The Mary Jane Kugel Award – Juvenile Diabetes Research Foundation International
The American Statistical Association Statistics in Chemistry Award: 2002
Fellow – 2002: Michael E. DeBakey Institute for Comparative Cardiovascular Science and Biomedical Devices
AFS Faculty Distinguished Achievement Award in Teaching: 2000
Texas A&M Engineering Experiment Station Senior Fellow Award: 2000
Outstanding Young Scientist Award - Sponsored by Johnson & Johnson and presented by Houston Society of Engineering in Medicine & Biology
Outstanding Fellows Advisor Award: 1993, Texas A&M University Honors Program