Professor of Practice, Biomedical Engineering
Global Programs Coordinator, Biomedical Engineering
Executive Director, Technology Transitions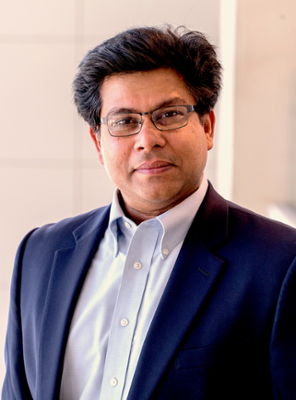 Educational Background
Ph.D., Biomedical Engineering, Texas A&M University – 2011
Executive Program in Finance, MIT Sloan School of Management – 2011
Research Interests
Industry areas: Cardiovascular biomechanics and neuromodulation, pediatrics, digital health

Saurabh Biswas also serves as the executive director for Commercialization and Entrepreneurship at the Texas A&M Engineering Experiment Station. He has over 15 years of combined experience in medical technology innovation, health care entrepreneurship and new ventures portfolio management. His primary research interests are in applying the principles of cardiovascular mechanics in identification and subsequent design and development of medical devices to treat heart failure and similar complex pathologies of the cardiovascular system. As entrepreneur-in-residence, he plays a critical role in identification of research and technology platforms with disruptive potential and executes strategies to accelerate commercialization. To enhance hands-on entrepreneurship training and education, he plays a key role in both mentoring and bringing NSF I-Corps programs to students and faculties across Texas A&M.

Prior to joining Texas A&M Engineering, Biswas was the director of New Ventures at The Texas A&M University System and was directly involved in venture creation, portfolio management and start-up investments. In that capacity, he led all aspects of divisional operations, due diligence, venture formation and equity investments. During his tenure, over 60 start-up companies were created that raised more than $150 million of outside capital. He has also led multinational teams to facilitate very large strategic initiatives across The Texas A&M University System where over $350 million in funding has been successfully obtained through public-private partnership, creating a global leadership position in vaccine and therapeutic manufacturing. Biswas is an innovator and entrepreneur with extensive experience building venture funded technology based companies from conceptual stages. He has co-founded three healthcare companies; CorInnova (cardiac assist device), Shape Memory Medical (shape memory foam based devices) and Cologenomics (cancer biomarker). He has been involved from founding stages either as an inventor or key management developing strategies with hands-on involvement in all aspects of team and venture development, product roadmaps, regulatory strategy, IP and capital raising process.

Biswas' innovation and entrepreneurial efforts have been recognized by multiple awards in academic and global business forums. He was the recipient of the Michael E. DeBakey scholarship in cardiovascular sciences and co-inventor of a novel adjustable cardiac support and recoil device for treating systolic and diastolic heart failure. The invention, presently being commercialized, has resulted in multiple issued and pending patents in US, Japan and Europe.
Industry Experience
Health care inventor, entrepreneur and venture investor
Head Innovation and Entrepreneurship at Texas A&M Engineering
New Ventures Portfolio Management as Director of New Ventures at Texas A&M University System
Co-founder and Chief Technology Officer at Corinnova
Co-founder and Chief Operations Officer at Shape Memory Medical
Awards & Honors
Outstanding Employee Service Award, 2013, Texas A&M University System
"12 under 12" Outstanding Young Alumni Award, 2013, Texas A&M Association of Former Students
Emerging Entrepreneurs in Biomedical Technology, 2005, Stanford University Biodesign