Professor, Electrical & Computer Engineering and Industrial & Systems Engineering
Regents Professor
Distinguished Professor
O'Donnell Foundation Chair I
Member, National Academy of Engineering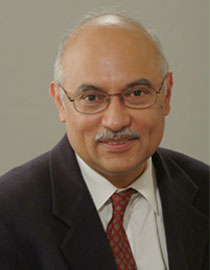 Educational Background
D.Sc., Systems Science and Mathematics, Washington University in St. Louis – 1977
M.S., Systems Science and Mathematics, Washington University in St. Louis – 1975
B. Tech., Electrical Engineering, I.I.T. Madras – 1973
Research Interests
Renewable energy and power systems

Unmanned air vehicle transportation management system

Cybersecurity

Wireless networks and 5G

Cyberphysical systems

Autonomous transportation

Machine learning
Awards & Honors
Outstanding Contribution Award of ACM SIGMOBILE
Infocom Achievement Award
ACM SIGMOBILE Test-of-Time Paper Award
ACM Fellow
Distinguished Alumnus Award from IIT Madras
Selected Publications
Bharadwaj Satchidanandan and P. R. Kumar, "Dynamic Watermarking: Active Defense of Networked Cyber-Physical Systems." Proceedings of the IEEE, vol. 105, No. 2, pp. 219-240, February 2017.
Jonathan Ponniah, Yih-Chun Hu and P. R. Kumar, "A System-Theoretic Clean Slate Approach to Provably Secure Ad Hoc Wireless Networking." IEEE Transactions on Control of Network Systems, vol. 3, no. 2, pp. 206 - 217, June 2016.
Woo-Hyun Ko, Bharadwaj Satchidanandan and P. R. Kumar, "Theory and Implementation of Dynamic Watermarking for Cybersecurity of Advanced Transportation Systems." International Workshop on Cyber-Physical Systems Security (CPS-Sec), pp. 235-239, Philadelphia, October 17-19, 2016.
Wireless networks Rahul Singh and P. R. Kumar, "Throughput Optimal Decentralized Scheduling of Multi-Hop Networks with End-to-End Deadline Constraints: Unreliable Links." Preprint, June 5, 2016.
Simon Yau, Liang Ge, Ping-Chun Hsieh, I-Hong Hou, Shuguang Cui, P. R. Kumar, Amal Ekbal, and Nikhil Kundargi, "WiMAC: Rapid Implementation Platform for User Definable MAC Protocols Through Separation." Proceedings of the 2015 ACM Conference on Special Interest Group on Data Communication (SIGCOMM '15), pp. 109-110, 2015.