Professor, Materials Science & Engineering
Associate Department Head
Director, Materials Characterization Facility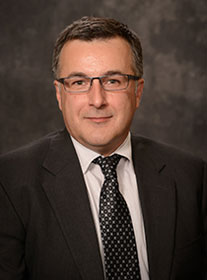 Educational Background
Ph.D., Materials Science and Engineering, Drexel University - 2001
M.S., Mechanical Engineering, University of Belgrade - 1997
B.S., Mechanical Engineering, University of Belgrade - 1992
Research Interests
High temperature materials for energy applications
Processing of advanced ceramic materials
Characterization and modeling of mechanical properties of ceramic and metallic materials
Reliability and durability of ceramic materials and components
Processing and characterization of materials for Fuel Cells
Resonant Ultrasound Spectroscopy
Awards & Honors
2006 Listed in Marquis Who's Who in America
2005 Author of Microphotographs chosen for on the ASM official screen server
2004 Cover of the Journal of American Ceramic Society
2002 ASM-ITS 2002 International Metallographic Contest – Honorable Mention
2001 1st Place in Student poster presentation category for poster presented at 2001 Cocoa Beach Conference
2001 Scholarship for the Gordon Research Conference – Solid State Studies in Ceramics.
2001 A.W. Grosvenor Award for Academic Performance, Department of Materials Engineering, Drexel University.
2000 Sigma Xi Award for the Presentation of Research Results at Drexel and MCP Hahnemann Universities Research Day, Drexel University.
1993 Stipend for Talented Young Scientist awarded by the Ministry for Science and Technology of the Republic of Serbia.
Selected Publications
M. Radovic, M.W. Barsoum, A. Ganguly, T. Zhen, P. Finkel, S. R. Kalidindi and E. Lara-Curzio "On the Elastic Properties and Mechanical Damping of Ti3SiC2, Ti3GeC2, Ti3Si0.5Al0.5C2 and Ti2AlC, in the 300-1573 K Temperature Range", Acta. Mat. 54 (2006) 2757-2767
T. Zhen, M. W. Barsoum and S. R. Kalidindi, M. Radovic, Z. M. Sun and T. El-Raghy, "Compressive Creep of Fine and Coarse-Grained T3SiC2 in Air in the 1100 to 1300 °C Temperature Range", Acta. Mater. 53 (2005) 4963-4973
M. Barsoum, M. Radovic, T. Zhen, P. Finkel and S. Kalidindi, "Dynamic Elastic Hysteretic Solids and Dislocations", Phys. Rev. Lett. 94 (2005) 085501-1
S.K. Khanna, X. Long, W.D. Porter, H. Wang, C.O. Stevens, M. Radovic and E. Lara-Curzio, "Determination of Thermophysical and Thermomechanical Properties of 5754 and 6111 Aluminum Alloys for Spot Welding Simulation Application", Sci. and Tech. of Welding and Joining 10 (2005) 82
M. W. Barsoum and M. Radovic, "Mechanical Properties of Mn+1AXn", Encyclopedia of Materials Science and Technology, Eds. Buschow, Cahn, Flemings, Kramer, Mahajan and P. Veyssiere, Elsevier Science (2004)
M. Radovic and Edgar Lara-Curzio, "Mechanical Properties of Tape Cast Nickel-based Anode Materials for Solid Oxide Fuel Cells Before and After Reduction in Hydrogen", Acta. Mater. 52 (2004) 5747
M. Radovic and E. Lara-Curzio "Changes of Elastic Properties of SOFC Anode during the Reduction of NiO to Ni in Hydrogen", J. Am. Ceram. Soc. 87 (2004) 2242
A. Murugaiah, A. Souchet, T. El-Raghy, M. Radovic, M. Sundberg and M. Barsoum, "Tape Casting, Pressureless Sintering, and Grain Growth in Ti3SiC2 Compounds", J. Am. Ceram. Soc. 87 (2004) 550.
M. Radovic, E. Lara-Curzio, L. Rieser, "Comparison of Different Experimental Techniques for Determination of Elastic Properties of Solids", Mater. Sci. Eng. 368 (2004) 56-70
M. Radovic, M.W. Barsoum, T. El-Raghy, S. Wiederhorn, "Tensile Creep of Coarse Grained Ti3SiC2 in the 1000-1200 oC Temperature Range", accepted in J. of Alloys and Compounds 361 (2003) 299-312
M.W. Barsoum, T. Zhen, S. Kalidindi, M. Radovic and A. Murugaiah, "Fully Reversible Plasticity Up to 1 GPa in Ti3SiC2", Nature Materials 2 (2003) 107-111
M. W. Barsoum, L. H. Ho-Duc, M. Radovic and T. El-Raghy, "Long Time oxidation Study of Ti3SiC2, Ti3SiC2/SiC and Ti3SiC2/TiC Composites in Air", J Electrochem. Soc. 150 (2003) 166-175
M. Radovic, M.W. Barsoum, T. El-Raghy, S. Wiederhorn and W. Luecke, "Effect of Temperature, Strain Rate and Grain Size on the Mechanical Response of Ti3SiC2 in Tension", Acta Mat. 50 (2002) 1297-1306
M. Radovic, M.W. Barsoum, T. El-Raghy, S. Wiederhorn, "Tensile Creep of Fine Grained Ti3SiC2 in the 1000-1200 oC Temperature Range", Acta Mat. 49 (2001) 4103-4112
M.W. Barsoum, M. Radovic, P. Finkel, T. El-Raghy, "Ti3SiC2 and Ice", Appl. Phys. Let. 79 (4), (2001) 479-481
M. Radovic, M.W. Barsoum, T. El-Raghy, J. Seidensticker, S. Wiederhorn, "Tensile Properties of Ti3SiC2 in the 25-1200 oC Temperature Range", Acta Mat. 48 (2000) 453-459