Professor, Materials Science & Engineering
Director, National Corrosion and Materials Reliability Center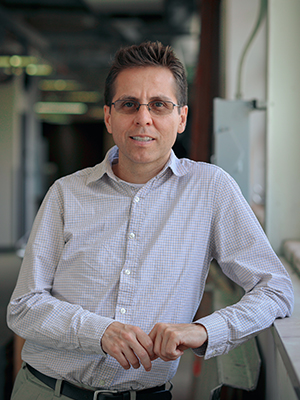 Educational Background
Ph.D., Materials Science and Engineering, Penn State University, University Park, PA - 2001
M.S., Materials Science, National Autonomous University of Mexico, UNAM - 1997
B.S., Chemical Metallurgical Engineering, National Autonomous University of Mexico, UNAM - 1994
Awards & Honors
2020-2022 Adjunct Professor (Professeur Affilie) with Mechanics, Surface and Processing Laboratory at ENSAM, Aux in Province, France
2019 Chairman of the Industrial Corrosion Consortia at NACE
2019 Editor of the Journal of Materials Science (Materials in Electronics)
2019 Fellow of the National Association of Corrosion Engineers (NACE)
2019 Member of the Publications Activities Committee at NACE
2018-2020 Guest Editor Special Issue "Advanced Coatings for Corrosion Protection in Extreme Environments" Journal of Coatings-MDPI (IF 2.3)
2018 H.H. Uhlig NACE Award- Best Educator in Corrosion Science and Engineering
2019 AZZ Fellowship
2017-2018 Member for the National Academies of Science, Engineering and Medicine's study on Connector Reliability for Offshore Oil and Natural Gas Operations
2017 Cathodic Protection Technologist Instructor by NACE (Certify corrosion cathodic protection engineers around the world)
2014-2020 National Research Council in Mexico, SNI Level II
2007-2013 National Research Council in Mexico, SNI Level I
1997 Graduate studies award (Antonio Caso) for best student in Posgraduate studies
1997-2000 Fellowship from the National University of Mexico DGAPA
1996 Research Award, 1996 by the National University Autonomous of Mexico Foundation for Best Research In Graduate Studies
1994 Honorable mention for academic achievement - undergraduate studies from the National Autonomous University of Mexico
Selected Publications
A Bayesian model framework for calibrating ultrasonic in-line inspection data and estimating actual external corrosion depth in buried pipeline utilizing a clustering technique, H Wang, A Yajima, RY Liang, H Castaneda*, Structural Safety 54, 19-3, 2015.
D Yang, M Zhang, J Zheng, H. Castaneda*, Corrosion inhibition of mild steel by an imidazolium ionic liquid compound: the effect of pH and surface pre-corrosion, RSC Advances 5 (115), 95160-95170
AI Karayan, K Jata, M Velez, H Castaneda*, On exfoliation corrosion of alloy 2060 T8E30 in an aggressive acid environment, Journal of Alloys and Compounds 657, 546-558.
Wang, H., Yajima, A., Liang, R.Y., Castaneda Homero*., A clustering approach for assessing external corrosion in a buried pipeline based on hidden Markov random field model , A Structural Safety, 56, pp. 18-29, 2015
Barraza-Fierro, J.I., Espinosa-Medina, M.A., H. Castaneda*, Transmission Line Modeling Applied to Hot Corrosion of Fe-40at.pctAl in Molten LiCl–KCl, Metallurgical and Materials Transactions B: Process Metallurgy and Materials Processing Science, In press, 15 August 2015, 16p.