The undergraduate student body in the Department of Ocean Engineering at Texas A&M University is very active in professional societies, honors societies, and competes every year in the International Human Powered Submarine Races.
Society of Naval Architects and Marine Engineers (SNAME)
The Society of Naval Architects and Marine Engineers goal is to advance the state of the art, to afford the opportunity for the exchange of information and ideas, to disseminate results of research, experience and information among its members, to encourage and sponsor such research, to cooperate with educational institutions, and to promote the professional integrity and status of the members. The current faculty advisor is Dr.  Mirjam Fürth.
---
Marine Technology Society (MTS)
The Marine Technology Society goal is to disseminate marine science and technical knowledge, to promote and support education for marine scientists, engineers and technicians, to advance the development of tools required to explore, study and exploit the oceans, and to provide services that create a broader understanding of the relevance of the marine sciences to other technologies, arts and human affairs.
---
Human Powered Submarine (HPS)
The Human Powered Submarine Project is an annual extracurricular design project in which students design, build, and race human powered submarines for the International Submarine Races. Races are normally scheduled during the summer every other year.
Since 1991, ocean engineering students have participated in the human powered submarine races. The students built both two-person and one-person submarines, powered by SCUBA certified student drivers.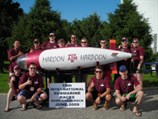 ---
Omega Epsilon (OE)
Omega Epsilon is an honor society initiated by the Ocean Engineering Program at Texas A&M University. Junior and Senior Ocean Engineering students are considered for induction based upon their cumulative GPR and class rank. New inductees are notified each Fall and Spring Semester. Officers are elected each academic year. Omega Epsilon is a university approved student organization.