The bachelor's degree program in chemical engineering has been accredited by the Engineering Accreditation Commission of ABET, http://www.abet.org. With ABET accreditation, students, parents, employers and the society we serve can be confident that a program meets the quality standards that produce graduates prepared to enter a global workforce.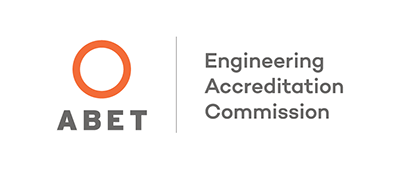 Vision Statement
The Artie McFerrin Department of Chemical Engineering at Texas A&M University will be a high-impact department that is recognized for excellence and leadership in continuously advancing the art and science of chemical engineering through creation and dissemination of knowledge.
Mission Statement
The mission of the Artie McFerrin Department of Chemical Engineering at Texas A&M University: to educate and prepare students for national and international leadership roles in industry, government, and academia; to attract top students to chemical engineering; to define and develop new directions in chemical engineering fundamentals and practices, and in chemical engineering education and curricula; to be a valuable resource and service base to the state and to industry; and to provide leadership in solving problems of social and economic importance.
Program Educational Objectives
1. Graduates will have successful chemical engineering careers in industry, academia or government.
2. Graduates will obtain, apply and transfer knowledge across disciplines and into emerging areas of chemical engineering and related fields. 
3. Graduates will communicate effectively, be leaders in their fields and work competently in interdisciplinary teams.
4. Graduates will be professionally responsible and ethical and engage in professional activities to impact the society on a global scale.
Student Outcomes
The student outcomes that prepare graduates to attain the program educational objectives are:
1.  An ability to apply knowledge in math, science (physics, chemistry and biology) and engineering 
2. An ability to design and conduct experiments, as well as to analyze and interpret data on experiments relevant to chemical engineering practice
3. An ability to design a system, component, or process to meet desired needs within realistic constraints such as economic, environmental, social, political, ethical, health and safety, manufacturability, and sustainability
4. An ability to function on multi-disciplinary teams 
5. An ability to identify, formulate, and solve problems important in chemical engineering practice
6. An understanding of professional and ethical responsibility 
7. An ability to communicate effectively
8. The broad education necessary to understand the impact of engineering solutions in a global, economic, environmental, and societal context
9. A recognition of the need for, and an ability to engage in life-long learning
10. A knowledge of contemporary issues
11. An ability to use the techniques, skills, and modern engineering tools necessary for chemical engineering practice
Bachelor of Science Enrollment and Graduation Data
Academic Year
Fall Semester Undergraduate Enrollment
2017-18
835
2016-17
709
2015-16
602
2014-15
519
2013-14
713
Enrollments for AY 2014 and after do not include freshmen. The data for AY 2013 and before included freshmen.