Associate Professor, Chemical Engineering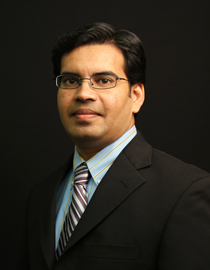 Educational Background
Ph.D., University of Louisville - 2006
M.S., University of Louisiana - 2002
B. Tech., Andhra University, India - 2000
Research Interests
The overall vision of Dr. Vaddiraju's research work is the development of processes for the mass production of nanowires and their integration in a simple, reliable and scalable manner into highly efficient energy conversion/mechanical devices. Currently, a bulk of his research work is primarily geared towards the fabrication of highly efficient thermoelectrics, solar cells, photocatalytic systems that employ semiconductor nanowires as the primary component. He is also interested in designing, engineering and fabricating 'smart' mechanical devices from nanowire-based composites. 

Towards realizing his research vision of streamlining the production of nanowire-based energy conversion devices in a manner similar to that achieved with drug production by the pharmaceutical industry and integrated chip (IC) production by the electronics industry, he has achieved the following so far: accomplished the mass production of nanowires and their large-scale assembly in an interface-engineered manner into energy conversion devices; accomplished both the interface-engineered assembly of nanowires via welding, and the simultaneous consolidation and alignment of nanowires using equal channel angular extrusion (ECAE); demonstrated that it is possible to translate novel electrical and thermal transport properties exhibited of individual nanowires in large-scale nanowire assemblies (achieved a thermoelectric figure-of-merit value of 0.23 in bulk pellets composed of copper doped Zn3P2 nanowires, the highest reported for the Zn3P2 system, and 100 folds higher than its bulk counterpart; demonstrated a thermoelectric figure-of- merit value of 0.6 in Al and Ga dually doped ZnO nanowire bulk pellets, highest achieved so far in the in the ZnO material system).

He also recently demonstrated that these nanowire systems could be used to disinfect water of harmful bacteria (e.g., E.coli) in a rapid and inexpensive manner. Currently, he is developing photocatalytic processes for efficiently disinfecting large quantities of water (millions of gallons of water per day).
Awards & Honors
Outstanding service Award, 2019
Phillips 66 First Year Faculty Fellowship, 2016
Fluor Distinguished Teaching Award, 2014
Selected Publications
1. Y. Qian, S. Vaddiraju, F. Khan, "Safety Education 4.0 - A response to the Process Industry 4.0 need", Safety Science, 161, 106069, 2023.
2. Y. Chen, Nazanin A. Kazerooni, A. Srinivasa, W. A. Chapkin, S. Sihn, A. K. Roy and S. Vaddiraju, "Shape memory polymer composites (SMPCs) using interconnected nanowire network foams as reinforcements", Nanotechnology, 34, 055601, 2023.
3. N. V. S. Korlapati, Faisal Khan, N. Quddus, S. Mirza, S. Vaddiraju, "Review and analysis of pipeline leak detection methods", Journal of Pipeline Science and Engineering, 2(4), 100074, 2022.
4. J. Bockenstedt, N. Vidwans, T. Gentry, S. Vaddiraju, "Catalyst recovery, regeneration and reuse during large-scale disinfection of water using photocatalysis", Water, 13, 2623, 2021.
5. Y. Chen, R. Polinnaya, S. Vaddiraju, 'Byproduct-free Mass Production of Compound Semiconductor Nanowires: Zinc Phosphide', Materials Research Express, 5, 055042, 2018.