Associate Professor, Chemical Engineering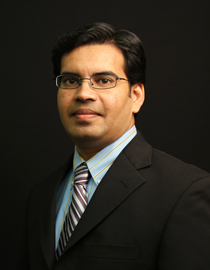 Educational Background
Ph.D., University of Louisville - 2006
M.S., University of Louisiana - 2002
B. Tech., Andhra University, India - 2000
Research Interests
Nanowires and assemblies for energy conversion and value-added product generation

Safety of energy conversion devices

Nanowires and devices for ultra-high temperature composites and multi-functional shape memory devices
Awards & Honors
Outstanding service Award, 2019
Phillips 66 First Year Faculty Fellowship, 2016
Fluor Distinguished Teaching Award, 2014
Selected Publications
1. Y. Qian, S. Vaddiraju, F. Khan, "Safety Education 4.0 - A response to the Process Industry 4.0 need", Safety Science, 161, 106069, 2023.
2. Y. Chen, Nazanin A. Kazerooni, A. Srinivasa, W. A. Chapkin, S. Sihn, A. K. Roy and S. Vaddiraju, "Shape memory polymer composites (SMPCs) using interconnected nanowire network foams as reinforcements", Nanotechnology, 34, 055601, 2023.
3. N. V. S. Korlapati, Faisal Khan, N. Quddus, S. Mirza, S. Vaddiraju, "Review and analysis of pipeline leak detection methods", Journal of Pipeline Science and Engineering, 2(4), 100074, 2022.
4. J. Bockenstedt, N. Vidwans, T. Gentry, S. Vaddiraju, "Catalyst recovery, regeneration and reuse during large-scale disinfection of water using photocatalysis", Water, 13, 2623, 2021.
5. Y. Chen, R. Polinnaya, S. Vaddiraju, 'Byproduct-free Mass Production of Compound Semiconductor Nanowires: Zinc Phosphide', Materials Research Express, 5, 055042, 2018.