Distinguished Professor of Mechanical Engineering
TEES Eminent Professor
Professor of Physics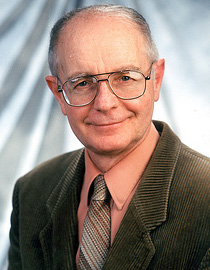 Educational Background
Ph.D. Yale University, 1966
M.S. Yale University, 1963
B.S., University of Wyoming, 1961
Research Interests
Dr. Scully's research interests include laser physics, quantum optics, nonequilibrium statistical mechanics and bioengineering. The Scully-Lamb quantum theory of the laser was the first theoretical treatment that yielded the laser photon statistics, the laser line width, and all higher order photon correlations. It was later extended to explain behavior of the single photon maser. Most recently, Scully and coworkers have shown that the laser master equation analysis also provides a good quantitative description of fluctuations in the Bose-Einstein condensate.
Awards & Honors
Distinguished Professor of Physics, Electrical Engineering and Chemical Engineering
Arthur L. Schawlow Prize in Laser Science, American Physical Society
Quantum Electronics Award, Institute of Electrical and Electronics Engineers Laser and Electro-Optics Society
Charles H. Townes Award, Optical Society of America
Adolph E. Lomb Medal, Optical Society of America
Elliott Cresson Medal, The Franklin Institute
Award for Senior U.S. Scientists, Alexander von Humboldt Foundation
EG&G Medal, Society of Optical and Quantum Electronics
Member, National Academy of Sciences
Member, American Academy of Arts and Sciences
Foreign Academy Membership, Academia Europaea
Foreign Academy Membership, Max-Planck Society (Germany)
Selected Publications
Ogilvie JP, Cui M, Pestov D,Sokolov AV, Scully MO, "Time-delayed coherent Raman spectroscopy," Molecular Physics, Vol. 106, Nos. 2-4, pp. 587-594, (2008).
Li H, Varzhapetyan TS, Sautenkov VA, Rostovtsev YV, Chen H, Sarkisyan D, Scully MO, "Improvement of spectral resolution by using the excitation dependence of dipole-dipole interaction in a dense atomic gas," Appl. Phys B, Vol. 91, pp 229-231, (2008).
Dogariu A, Golstov A, Pestov D, Sokolov AV, Scully MO, "Real-time detection of bacterial spores using coherent anti-Stokes Raman spectroscopy," Journal of Applied Physics, Vol. 103, Art. No. 036103, (2008).
Kuehner JP, Naik SV, Kulatilaka WD, Chai N, Laurendeau NM, Lucht RP, Scully MO, Roy S, Patnaik AK, Gord JR, "Perturbative theory and modeling of electronic-resonance-enhanced coherent anti-Stokes Raman scattering, spectroscopy of nitric oxide," Journal of Chemical Physics, 128 (17), 174308 (2008).
Li HB, Sautenkov VA, Kash MM, Sokolov AV, Welch GR, Rostovtsev YV, Zubairy MS, Scully MO, "Optical imaging beyond the diffraction limit via dark states," Physical Review A, 78 (1), 013803 (2008).