Professor, Chemical Engineering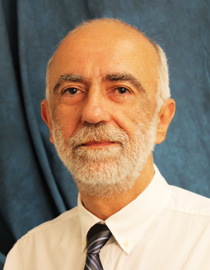 Educational Background
Ph.D., Chemical Engineering, California Institute of Technology – 1984
M.S., Chemical Engineering, California Institute of Technology – 1981
Diploma, Chemical Engineering, National Technical University of Athens, Greece – 1979
Research Interests
Process control
State observers
Fault detection and isolation
Selected Publications
C. Kravaris and I. K. Kookos, "Understanding Process Dynamics and Control", Cambridge University Press, Cambridge, 2021.
C. Kravaris and S. Venkateswaran, "Functional Observers with Linear Error Dynamics for Nonlinear Systems", Systems Control Lett., 157 (2021), 105021.
J. Ariamuthu Venkidasalapathy and C. Kravaris, "Hidden Markov Model Based Approach for Diagnosing Cause of Alarm Signals", AIChE J., 67 (2021), e17297.
S. Venkateswaran, Q. Liu, B. Wilhite and C. Kravaris, "Design of linear residual generators for fault detection and isolation in nonlinear systems", Internat. J. Control 95 (2022), pp. 804-820.
C. Ling and C. Kravaris, "Multi-Rate Sampled-Data Observer Design Based on a Continuous-Time Design", IEEE Trans. Autom. Control, 64 (2019), pp. 5265-5272.