Our shared facilities are administered by the department of mechanical engineering. We provide students and researchers open access to a wide range of equipment for measuring, characterizing and imaging of samples. If necessary, shared facility staff or super user of the instrument will offer training before giving access to the equipment. Rates of training/usage are subject to change without notice.
Training
First time Shared Service Facility user:
Go to the iLab Mechanical Engineering Shared Services Facilities webpage.
Next, on the "Request Services" tab of the Mechanical Engineering Shared Services Facilities webpage, initiate a "Training Request." You will be contacted by staff once your request has been approved to schedule your training time.
Fees
TAMU users
Instrument use: the rates are listed above
Training: instrument rate + $49/hr (staff time)
Equipment Setup: $48/hr
External users
Instrument rates: 150% of rates listed above
Staff time: $71/hr
Equipment Setup: $75/hr
---
KLA-Tencor P-6 Stylus Profiler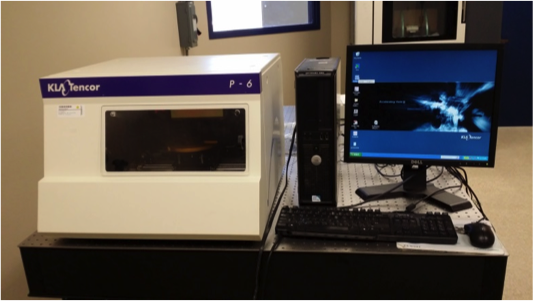 Description:
The P-6 Stylus Profiler offers advanced surface measurement such as step height, surface roughness, and waviness of samples up to 150 mm. The standard 2 µm radius diamond tipped stylus is installed in the system. The stylus profiler software (Apex®) provides various data analysis features, report generation, and post measurement analysis including 3D imaging.
Specifications:
Maximum scan length: 150 mm
Lateral resolution1: X = 0.2 µm, Y = 1 µm
Vertical range: 327 µm
Stylus force: 0.3–50 mg
Vertical resolution: < 0.01 Å @ 13 µm range
< 0.04 Å @ 64 µm range 
< 0.20 Å @ 327 µm range
Repeatability: 6.0 Å or 0.1% (1s)
Stylus: 2.0 µm, 60 degree radius
Top view optics: 2000 x 1500 µm field of view, USB digital B/W camera
2D stress software
The following profile measurement was acquired by the P-6 Stylus Profiler.

---
VEGA II LSU SEM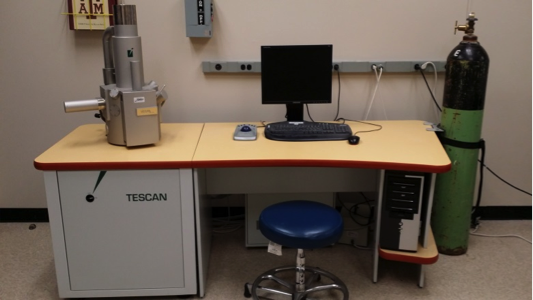 Description:
The TESCON VEGA II LSU SEM is designed to provide easy and fast image acquisition. The SEM is based on thermionic emission from heated tungsten cathode.
Specifications:
Resolution: 3.0 nm at 30 kV in high vacuum mode
Magnification: continuous from 13x to 1,000,000x
Accelerating voltage: 200 V to 30 kV
Electron gun: tungsten heated cathode
Probe current: 1 pA to 2 µA
Scanning speed: from 160 ns to 10 ms per pixel adjustable in steps or continuously
Focus window: shape, size and position continuously adjustable
Scanning features: dynamic focus, point & line scan, tilt correction, 3D beam
Image size: up to 8,192 x 8,192 pixels in 16-bit quality, size is adjustable separately for live images (in 3 steps) and for saved images (in 10 steps), for square and rectangular 4:3 or 2:1 image shapes
Microscope control: all microscope functions are PC controlled by means of the trackball, the mouse and the keyboard via the VegaTC program using Windows TM platforms
Automatic procedures: vacuum control, filament heating, gun alignment, centering of scanning modes, compensation for kV, probe current optimized for spot size, spot size optimized for magnification, scanning speed, contrast & brightness, focus, stigmator, look up table.
The following SEM image of gold particles was taken from the TESCON VEGA II LSU SEM.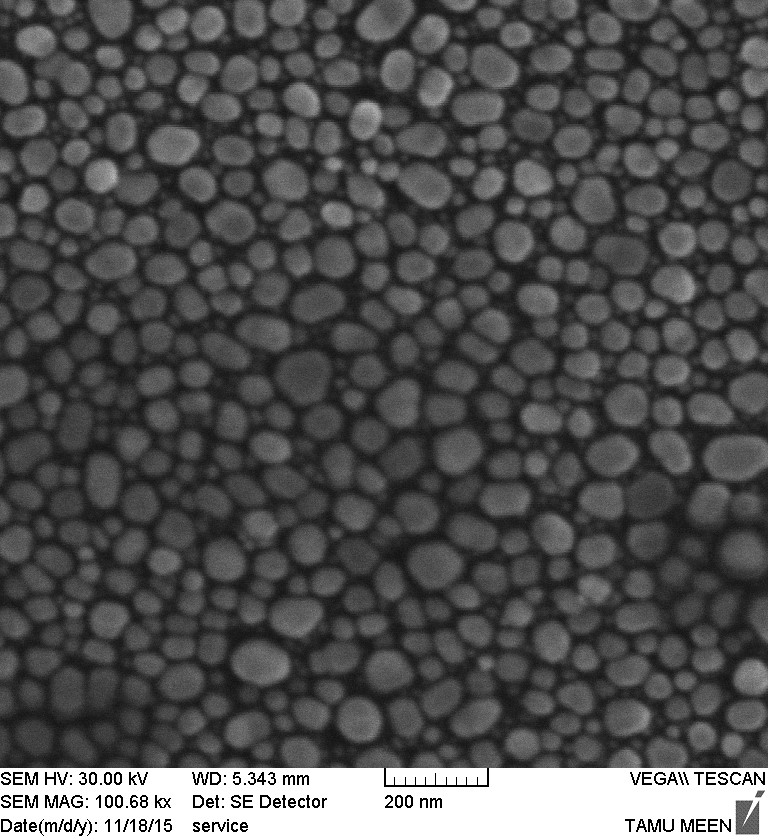 For more information, please read the instruction manual.
---
VHX-600 Digital Microscope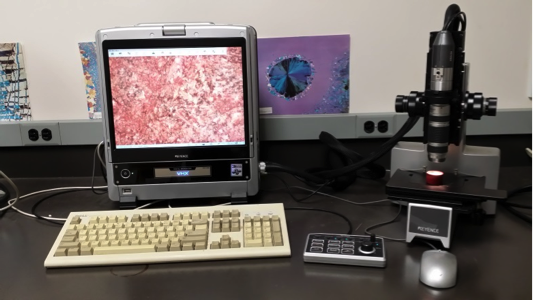 Description:
The Keyence VHX-600K Digital Microscope is a high resolution (54 mega-pixel) 3CCD camera based system, providing 20 times the depth-of-field of conventional microscope. The VHX-600 provides real time measurements of distance, angle, and area determination. Furthermore, it can create a 3D image from the automatically captured images with high magnification up to 5000x. Other features of the VHX-600K include digital focusing function, digital zoom, various image correction functions and video recording function.
---
High-Performance Liquid Chromatography (HPLC)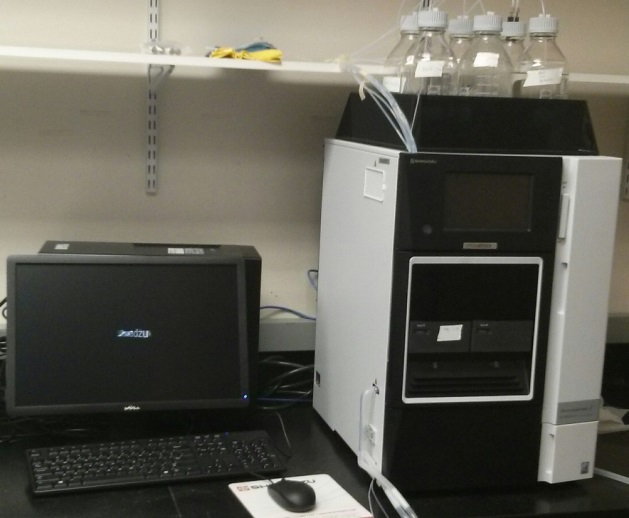 Description:
The Shimadzu LC-2030C system equipped with a UV/Vis detector is highly reliable for separation and quantification of organic chemicals in water. The employment of an autosampler makes it easy to be operated. Purification columns currently available include TSKgel ODS-80Ts (2x250 mm, 5 µm), Restek 558389 (4.6x50 mm, 3 µm), and Kinetex Core-shell C18 (3x50 mm, 2.6 µm). It is located at JCAIN 321.
---
Total Organic Carbon (TOC) Analyzer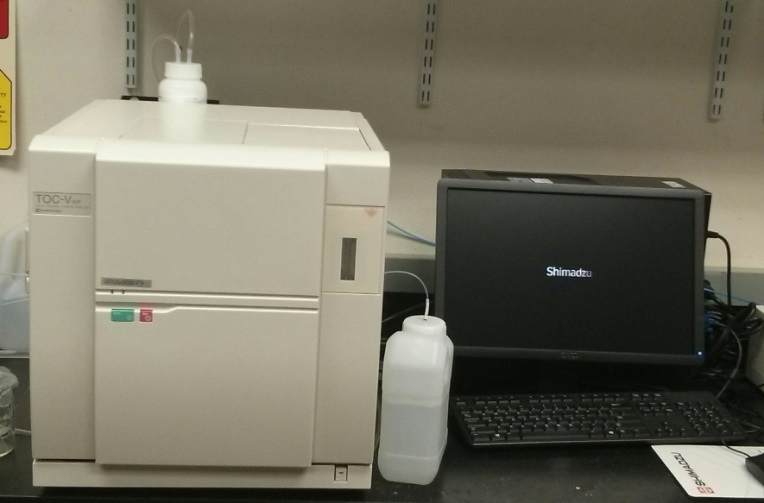 Description:
The Shimadzu TOC-VWP analyzer is a newly designed wet oxidation instrument with enhanced sensitivity and accuracy. Powerful oxidation of water samples is achieved through a combination of peroxosulfuric acid, UV illumination, and heating. Total carbon (TC), Inorganic carbon (IC), Total organic carbon (TOC), and Non-purgeable organic carbon (NPOC) in water can be measured. It is location at JCAIN 321.
---
Atomic Layer Deposition (ALD) System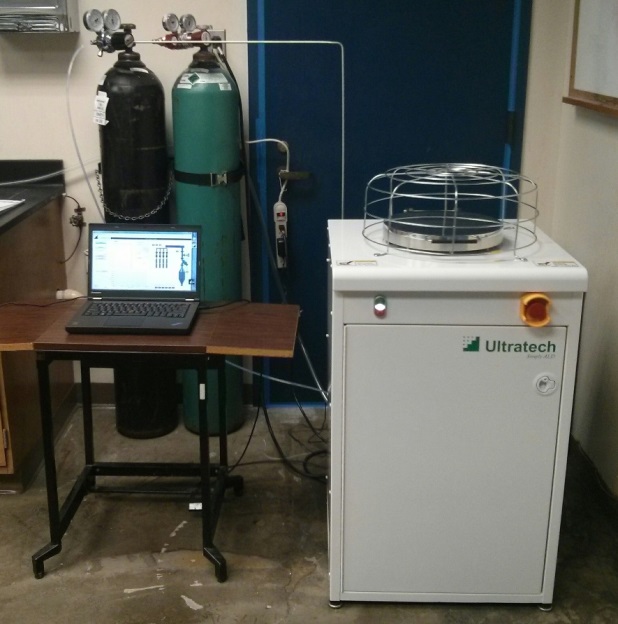 Description:
The Ultratech / Cambridge NanoTech Savannah S200 ALD System delivers outstanding deposition results and provides maximum experimental flexibility for ALD research, development and production applications. It allows atomic-level control over the thickness (subnanometer to tens of nanometer) and composition of the deposit on material surface. It is capable of thin-film deposition or coating on particles or porous materials. Three precursors are current available enabling the deposition of TiO2, MgO, and Al2O3. Other precursors are available upon request. It is location at JCAIN 321.
---
MicroClimate environmental chamber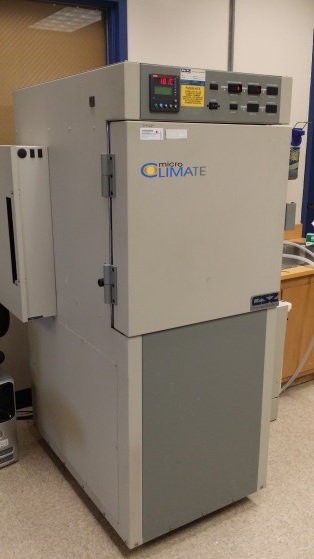 Description:
MicroClimate chambers operate at a wide range of temperature and/or humidity conditions. You may program for temperature cycling tests or maintain steady state temperature environments.
Specifications:
Temperature Range: -73 °C (-100 °F) to +190 °C (+375 °F)
Humidity Range: 10 % to 95 % RH
Control Stability: ±0.5 °C from -50 °C to +190 °C, ±1 °C below -50 °C, at steady state conditions after stabilization.
Temperature performance: Temperature pulldown from +24 °C (+75 °F) to:
-40 °C(-40 °F) in 22 minutes
-54 °C(-65 ° F) in 32 minutes
-68 °C(-90 ° F) in 48 minutes
Temperature heat-up from:
+24 °C (+75 °F) to +94 °C (+200 °F) in 6 minutes
+24 °C (+75 °F) to +190 °C (+375 °F) in 18 minutes
-34 °C (-30 °F) to +24 °C (+75 °F) in 7 minutes
-65 °C (-90 °F) to +24 °C (+75 °F) in 8 minutes
Live load capacity: 350 watts at -40 °C (-40 °F)
250 watts at -54 °C (-65 °F)
Interior dimensions: 17" wide × 17" deep × 18" high
(43.2 cm wide × 43.2 cm deep × 45.7 cm high)
---
Photron FASTCAM SA5 High Speed Camera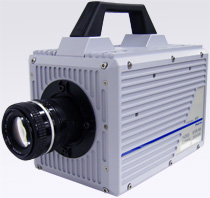 Description:
Photron FASTCAM SA5 high speed camera offers 7,500 fps at greater than mega pixel resolution and up to one million frames per second at reduced resolution. Fastcam SA5 delivers unsurpassed light sensitivity (ISO/ASA 6400 - test compliant with ISO 12232) and dynamic range through its 12-bit monochrome (36-bit RGB color) sensor with twenty micron square pixels.
Specifications:
7500 fps at a full resolution of 1k x 1k
Up to 1.000.000fps at reduced resolution
Superior image quality and color fidelity
Proprietary 12 bit CMOS sensor with very high light sensitivity
PAL, NTSC or SDI video output
Programmable synchronization inputs and outputs
Optional LCD keypad controller with integrated viewfinder
---
Olympus BX 61/Visitech QLC-100 Confocal Microscopy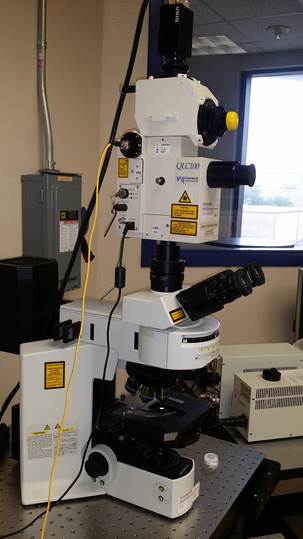 Description:
Olympus BX 61 is attached to a Visitech QLC-100 Spinning Disc Confocal Scanners, offering bright field, dark field, polarization, fluorescence contrast and motorized vertical translation stage.
---
Simultaneous Thermal Analyzer — Q600 SDT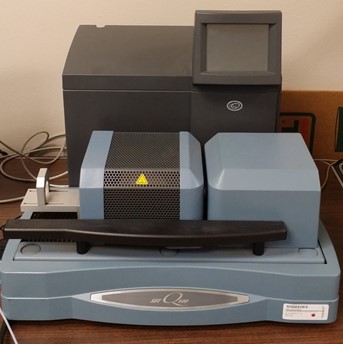 The Q600 SDT is designed to measure the instantaneous weight and differential heat flow in the same sample simultaneously at temperatures ranging from ambient to 1500 °C.
Specifications:
System Design: Horizontal Balance & Furnace
Balance Design: Dual Beam (growth compensated)
Sample Capacity: 200 mg (350 mg including sample holder)
Balance Sensitivity: 0.1 µg
Furnace Type: Bi?lar Wound
Temperature Range: Ambient to 1500 °C
Heating Rate – Ambient to 1000 °C: 0.1 to 100 °C/min
Heating Rate – Ambient to 1500 °C: 0.1 to 25 °C/min
Furnace Cooling: Forced Air (1500 to 50 °C in < 30 min, 1000 °C in 50 °C in < 20 min)
Thermocouples: Platinum/Platinum-Rhodium (Type R)
Temperature Calibration: Curie Point or Metal Standards (1 to 5 Points)
DTA Sensitivity: 0.001 °C
Calorimetric Accuracy/Precision: ± 2% (based on metal standards)
Mass Flow Controller with Automatic Gas Switching: Included Vacuum to 7 Pa (0.05 torr)
Reactive Gas Capability: Included – separate gas tube
Dual Sample TGA: Included
Auto-Stepwise TGA: Included
Sample Pans: Platinum: 40 µL, 110 µL, Alumina: 40 µL, 90 µL
For more information, please read the instruction manual from the following link. 
---
Differential Scanning Calorimeter — DSC Q1000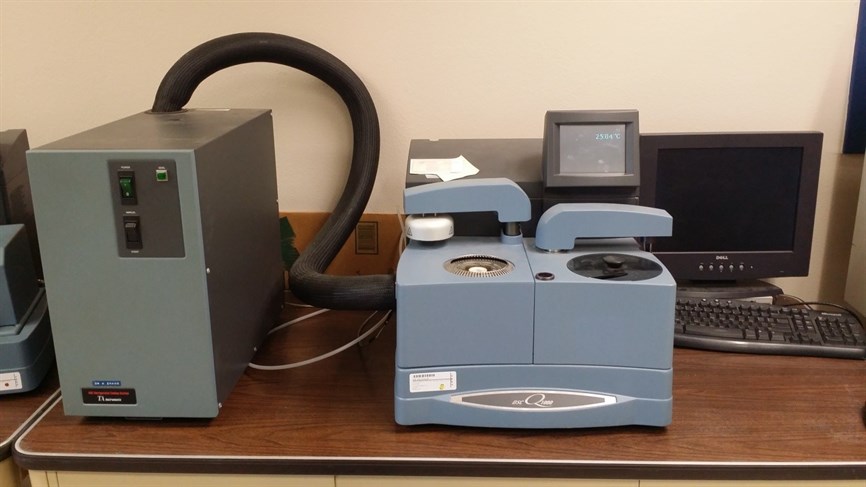 The Differential Scanning Calorimeter measures the temperature and heat flow caused by material transitions as a function of time and temperature, while in conjunction, providing qualitative and quantitative data on the exothermic and endothermic processes of materials during physical transitions. The DSC Q1000 includes a 50-position intelligent autosampler, digital mass flow controllers, and a refrigeration cooling system for higher temperature experiments.
Specifications:
Tzero™ Technology: Advanced
MDSC®: Advanced
Touch Screen: Included
User Replaceable Cell: Yes
Digital Mass Flow Control: Included
50 Position Autosampler: Included
Auto Lid: Included
Temperature Accuracy: ± 0.1 °C
Temperature Precision: ± 0.05 °C
Temperature Range (with refrigeration cooling system): -180 to 725 °C
Calorimetric Precision (based on metal standards): ± 1 %
Sensitivity: 0.2 µW
Baseline Curvature with Tzero (-50 to 300°C): 10 µW
Baseline Reproducibility with Tzero: 10 µW
Relative Resolution: 2.9

Instruction Manual
---
Veeco Dektak 150 Profilometer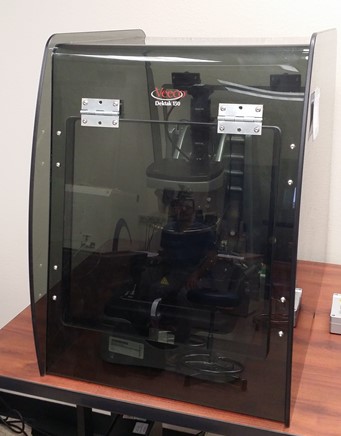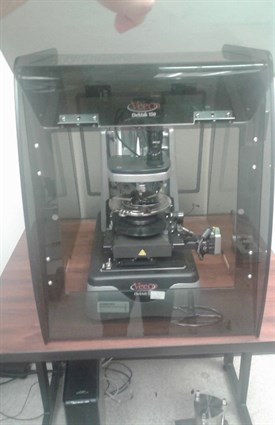 The Dektak 150 Profilometer measures the surface topography, roughness, and step size using stylus contact techniques. Two notable features include 3D mapping and 4-angstrom repeatability.
Specifications:
Measurement Technique: Contact stylus profilometry
Measurement Capability: Two-dimensional surface profile measurements
Sample Viewing: 640 x 480-pixel (1/3in.-format) camera, USB; fixed magnification, 2.6mm HFOV (166X with 17in. monitor); optional manual zoom, variable 0.67 to 4.29mm HFOV (644X to 100X with 17in. monitor) 
Stylus Sensor: Low-Inertia Sensor (LIS 3)
Stylus Force: 1 to 15mg with LIS 3 sensor; 0.03 to 15mg with N-Lite sensor option
Stylus Options: Stylus radius options from 50nm to 25µm; High Aspect Ratio (HAR) tips 10µm x 2µm and 200µm x 20µm Sample Stage: Manual X/Y/?, 100 x 100mm X-Y translation, 360° rotation, manual leveling; optional X-Y auto stage, 150mm travel, 1µm repeatability; optional 200mm wafer vacuum chuck; optional 6-inch square porous vacuum chuck
Computer System: PC with Pentium® D or AthlonTM processor
Software: Dektak software running under Windows® XP; Step Detection software (std.); optional Stress Measurement software; optional 3D Mapping with Vision analysis software; optional Stitching software
Vibration Isolation: Optional vibration isolation table; optional table-top vibration isolation system
Scan Length Range: 55mm standard; up to 200mm with stitching option
Data Points Per Scan: 120,000 maximum Max.
Sample Thickness: Up to 90mm, depending on configuration
Max. Wafer Size: 150mm (200mm with Advanced Automation Package)
Step Height Repeatability: =6Å (D150); =4Å (D150+ option); 1 sigma on 0.1µm step
Vertical Range: 524um (1mm optional)
Vertical Resolution: 1Å max. (at 6.55µm range) 
---
Salt Spray Chamber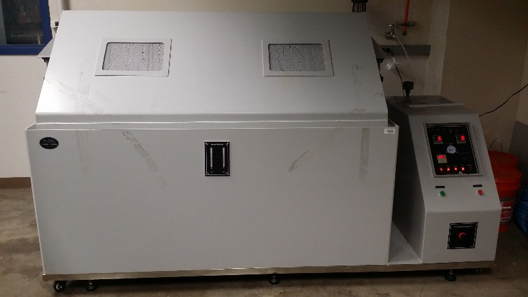 The Salt Spray Chamber is designed to test a materials ability to resist erosion effects caused by brine (salt water). Such materials may be included in electrical appliances, electrical hardware, and other accessories. All testing chambers can perform Brine and Cupric Acetate tests. A single testing period can be set from 0.01s to 9999h.
Specifications:
Internal dimensions (WxDxH): 64? x 40? x 20?
External dimensions (WxDxH): 100? x 52? x 56?
Test chamber volume: 800L (28.2 cu ft)
Solution reservoir volume*1: 40L (1.4 cu ft)
Removable slotted sample rods: 16 rods (12 shelves)
Atomizing nozzle: 2 pc
Cover Lifter: Available/td>
Unattended operating days: 7
Bubble tower volume: 4L(0.14 cu ft)
Construction: PVC
Color: Gray
Temperature range: Up to +60° C (Test chamber)
Temperature precision: ±0.1°C
PVC construction: Up to +70° C (Bubble tower)
Salt fog collection rates: Adjustable from 1.0 to 2.0 ml per 80 cm² per hour
Spray pressure: 0.8~2.0kgf/cm² (powered by compressed air)
Power supply: 3 phase, Power source dependent on country/region of installation
Exhaust : Exhaust pipe should be installed outside building
Drain: Drain pipe should be installed into floor level drain