Associate Professor, Aerospace Engineering
Director, LASR Laboratory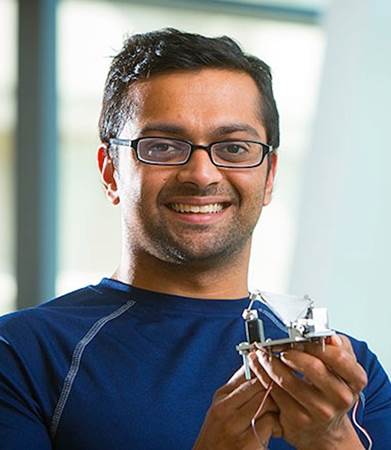 Educational Background
Ph.D., Aerospace Engineering, Texas A&M University - 2009
M.S., Aerospace Engineering, Texas A&M University - 2006
B.E. (Hons), Mechanical Engineering, Birla Institute of Technology and Science - 2003
Research Interests
Structural systems
Computational vision and sensor systems
Astronautics and dynamical systems
Aerospace robotics and autonomous systems
Awards & Honors
Milton Plesur Teaching Award for Excellence in Teaching, 2014-2015
Young Investigator Award, University at Buffalo, SUNY, 2016
National Geospatial Intelligence Agency's New Investigator Award
Selected Publications
X. Wong and M. Majji, "A Structured Light System for Relative Navigation of Autonomous Systems," the IEEE Sensors Journal, Vol. 16, No. 17, Sep, 2016.
Adurthi, N., Singla, P., Majji, M., "Sparse Approximation based Collocation Scheme for Nonlinear Optimal Feedback Control Design," Journal of Guidance, Control and Dynamics, to appear.
Weisman, R., Majji, M., Alfriend, T., "Solution of Liouville's Equation for Uncertainty Characterization of the Main Problem in Satellite Theory," Computer Modeling in Engineering and Sciences, Vol, 111, No. 3, pp. Jan, 2016, 203-304.
Majji, M., Juang, J. N., and Junkins, J. L., "Time Varying Eigensystem Realization Algorithm", Journal of Guidance Control and Dynamics, Vol. 33, No.1, pp. 13-28, 2010.
Zanetti, R., Majji, M., Bishop, R. H., and Mortari, D., "Norm Constrained Kalman Filtering," Journal of Guidance Control and Dynamics, Vol.32, No. 5, pp. 1458 - 1465, 2009. (featured article on Draper Digest)
Majji,M., Junkins,J.L. and Turner,J.D., "High Order Methods for Estimation of Dynamic Systems," the Journal of Astronautical Sciences, Vol. 56, No. 3, pp. 401-440, 2008.