Phone:

974-4423-0165

Office:

234E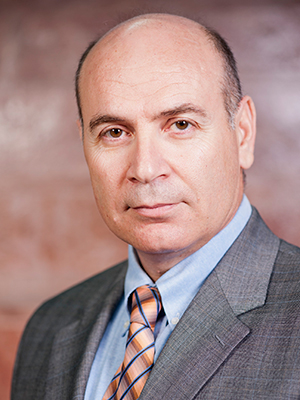 Educational Background
HDR, University of Versailles — 2003
Ph.D., University of Minnesota, Minneapolis — 1994
M.S., University of Minnesota, Minneapolis — 1990
B.S., University of Minnesota, Minneapolis — 1988
Research Interests
Dr. Mansour Karkoub's teaching and research interests include: Robust Control, Robotics, Autonomous Vehicles, Mechatronics, and Vibration Engineering.
Awards & Honors
Fellow, The American Society of Mechanical Engineers
Fellow, The Institute of Engineering Technology
Fellow, The Institute of Mechanical Engineers
Senior Member, Institute of Electrical and Electronic Engineers
Distinguished Achievement Award College Level, Texas A&M University, August, 2012.
Faculty Appreciation Award, graduating class of 2012, Texas A&M University at Qatar, June 2012.
ASME-Petroleum Institute best teacher award, June, 2008.
Best teacher award, College of Engineering, Kuwait University, 2001.
Best Junior Research Award, Kuwait University, 1999.
Recipient of a four-year undergraduate scholarship from the USAID & MHE, Tunisia, 1984-1988.
Recipient of the ISWOP graduate fellowship, UMN, Minneapolis, MN, USA, 1992-1994.
Recipient of a five-year graduate scholarship from the USAID & MHE, Tunisia, 1988-1994.
Recipient of the TRUTH Company award for outstanding undergraduate mechanism design, 1987.
Member, Tau Beta PI
Selected Publications
M. Karkoub, C-C. Weng, , T-S. Wu, W-S. Yu, and M-G. Her, " Tracking Adaptive Fuzzy Integral Sliding Mode Control for a Train of Self-Balancing Vehicles," Accepted, International Journal of Dynamics and Control, 2018.
H. M. Wu, M. Karkoub and C. L. Hwang, "Hierarchical Variable Structure Control for the Path Following and Formation Maintenance of Multi-Agent Systems," Accepted, Journal of Robotic and Intelligent Systems, 2018.
M. Karkoub, H-M. Wu, and C-L. Hwang, "Hierarchical Robust Nonlinear Control for Trajectory-Tracking of Autonomous Underwater Vehicles Subject to Uncertainties Variable," Ocean Engineering, vol. 145, pp. 188-198, 2017.
T-S. Wu, M. Karkoub, "Robust Tracking Control of MIMO Under-Actuated Nonlinear Systems with Dead-Zone Band and Delayed Uncertainty Using an Adaptive Fuzzy Control," IEEE Transactions on Fuzzy Systems, vol. 25, no. 4, pp. 905-918, 2017.
D. A. Trevino G., S.M. Dutta, and F. H. Ghorbel, M. Karkoub, 2016, "A Dipole Model of 3-D Magnetic Flux Leakage," Accepted, IEEE Transactions on Magnetics.