Professor of Engineering Practice, Subsea Engineering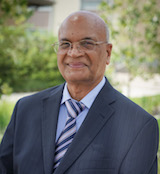 Educational Background
Doctor of Philosophy, chemical engineering/thermodynamics - Banaras Hindu University - 1979
Master of Science, chemical engineering/thermodynamics - Banaras Hindu University - 1974
Bachelor of Science - Banaras Hindu University - 1971
Research Interests
Flow Assurance and Operability
Industry Experience
Design and Operation of Subsea Production Fields producing Hydrocarbons at McDermott, Intecsea, TechnipFMC, and Halliburton

Subsea Flow Assurance Engineering, Production Chemistry and Solids Management

Multiphase Flow, Fluid Dynamics, Heat Transfer, and Thermal Hydraulics

Reservoir Fluids, Phase Behavior, Physical Chemistry, and Thermodynamics

Project Management and Business Development
Certifications & Memberships
Honorary Rosalind Member of London Journals Press. Membership. London Journal of Research in Science
Member of Steering Committee Upstream Engineering and Flow Assurance (UE&FA) Forum
Member of Society of Petroleum Engineers (SPE)
Member of American Society of Mechanical Engineers (ASME)
Member of American Chemical Society (ACS)
Selected Publications
"Managing Paraffin/Wax Deposition Challenges in Deepwater Hydrocarbon Production Systems". K. Shukla and M. Labh. A Chapter in Book "Paraffins", Edited by Dr. Fathi Soliman, IntechOpen (UK), ISBN: 978-1-83880-595-1 (Sep 9th 2020).
"Thermodynamics of Thermal Diffusion Factors in Hydrocarbon Mixtures". K. Shukla. A Chapter in Book "Exploitation of Unconventional Oil and Gas Resources - Hydraulic Fracturing and Other Recovery and Assessment Techniques" Edited by Kenneth Imo-Imo Eshiet, IntechOpen (UK), ISBN: 978-1-83881-107-5 (Jul 10th 2019).
"A New Transient Thermal Model for Predicting Cooldown Temperature in PIP Systems Transporting Waxy Hydrocarbons". M. Lab and K. Shukla, ERS Conference, TAMU, Sep 22-25 (2019).
"Statistical thermodynamics of thermal diffusion factors in binary hydrocarbon mixtures – an application". K. Shukla. Molecular Physics, 115:1253-1263 (2017)
"Non-chemical Products Offer Effective Flow Assurance". K. Shukla, Offshore, Apr (2014).