Professor of Biological and Agricultural Engineering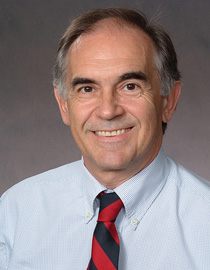 Educational Background
Ph.D., Iowa State University, Ames, 1986
M.S., Iowa State University, Ames, 1983
Dipl. Ing., University of Novi Sad, Yugoslavia, 1977
Research Interests
Dr. Nikolov's research focuses on the development of recovery and purification strategies for recombinant biomolecules expressed in transgenic plants and microalgae.His research group applies modern scientific, engineering, and analytical tools to identify constraints posed by the biological system and recombinant product.Understanding these constraints is a critical step towards achieving a cost-effective downstream processing (process).Current projects include the development of microalgae as a platform for producing a malaria vaccine antigen and a dimeric immunotoxin (monoclonal antibody-toxin fusions for cancer treatment).
Awards & Honors
Editorial Board Member, Journal of Biological Engineering, 2009 -
Editorial Board Member, Brazilian Journal of Chemical Engineering, 2005-2009.
Dow Chemical Professorship, Texas A&M University, 2003
Visiting Professor, School of Chemical Engineering, State University of Campinas, Brazil, 1997\n\rAcademic Research Fellow, Kraft Foods, Inc., 1995-96
ADM Award for Best Publication in Engineering & Technology, 1986
Selected Publications
Wilken, L.R. and Z.L. Nikolov. 2011. Recovery and purification of plant-made foreign proteins. Biotechnol. Advances (In press).
Wilken, L.R. and Z.L. Nikolov. 2011. Downstream processing of transgenic plant systems: Protein recovery and purification strategies.In: Ma, S. and A. Wang. (eds). Molecular Farming in Plants: Recent Advances and Future Prospects. Springer, New York (In pess).
Wilken, L.R. and Z.L. Nikolov.2011.Process evaluation and economic analyses of recombinant human lysozyme and hen egg-white lysozyme purifications. Biotechnol. Progr. 27: 733-743.
Barros G.O.F, Woodard S.L., Nikolov Z. L. 2011. Phenolics removal from transgenic Lemna minor extracts expressing mAb and impact on mAb production cost. Biotechnol. Progr. 27: 410-418.
Wilken, L.R. and Nikolov, Z. L. 2010.Evaluation of Alternatives for Human Lysozyme Purification from Transgenic Rice: Impact of Phytic Acid and Buffer. Biotechnol. Prog. 26: 1303-1311.
Woodard, S. L., Wilken, L. R., Barros, G.O.F., White, S.G., & Nikolov, Z. L. 2009.Evaluation of Woodard, S.L., Wilken, L.R., Barros, G.O.F., White, S.G., & Nikolov, Z. L. 2009.Evaluation of Monoclonal Antibody and Phenolic Extraction from Transgenic Lemna for Purification Process Development. Biotechnol. Bioeng.104: 562-571.