In association with the Society for Biomaterials Student Chapter at Texas A&M University
---
Dr. Daniel Alge
Dr. Daniel L. Alge is assistant professor in the Department of Biomedical Engineering at Texas A&M University. His research is in biomaterials, with an emphasis on applications in tissue engineering and regenerative medicine. However, his interests span from fundamental studies on biomaterial chemistry and characterization to translational research. The goals of Dr. Alge's research group are to understand how biomaterial properties influence biological processes and to simply engineer better biomaterials. The lab specializes in hydrogels due to their diverse biomedical applications. Current projects are focused on the chemistries used to fabricate and functionalize hydrogels and the incorporation of stimulus-responsive chemical functionalities to enable tunable, dynamic changes to the material properties. These materials are being used to engineer cellular microenvironments for musculoskeletal tissue engineering, to understand the role of microenvironmental factors in infectious disease, for drug delivery, and to develop implantable biosensors.
---
Dr. Melissa Grunlan
Dr. Melissa Grunlan is a professor in the Department of Biomedical Engineering at Texas A&M University. She received her B.S. in chemistry and M.S. in polymers and coatings from North Dakota State University. Her Ph.D. in chemistry was obtained at the University of Southern California in 2004. Her post-doctoral research was in the Department of Chemistry at Texas A&M, where she developed silicone polymers with catalytic behavior. Prior to beginning her doctoral studies, she was a senior chemist with the H.B. Fuller Company for four years. Her research interests focus on the development of polymeric biomaterials for applications such as blood-contacting device coatings, sensor membranes, tissue engineering scaffolds and "smart" materials.
---
Dr. Akhilesh Gaharwar
Dr. Akhilesh K. Gaharwar is assistant professor in the Department of Biomedical Engineering at Texas A&M University. His "Inspired Nanomaterials and Tissue Engineering (iNanoTE) Laboratory" focuses on designing, developing and integrating biomimetic nanostructures and stem cells for functional tissue engineering that have potential for clinical translation. His research spans diverse fields, including materials science, chemistry, stem cells biology and microfabrication of polymeric biomaterials and nanocomposites. Specifically, his laboratory is developing biomimetic nanomaterials with native interface tissue-like gradient in physical and chemical properties; integrating advanced micro- and nano- fabrication technologies to mimic native interface tissue architecture; and directing stem cell behavior to obtain regionalized tissue constructs in vitro and in vivo. This integrated approach brings together a range of seemingly disparate disciplines that will address some of the complexity associated with engineering functional tissue interfaces in a manner that is otherwise not possible.
---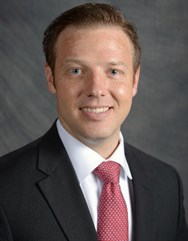 Dr. Corey Bishop
Dr. Corey J. Bishop is the principal investigator of the Pharmacoengineering Laboratory and his objectives are to: engineer drug delivery platforms for personalized and targeted medicine. These include immunoengineered therapeutic cancer vaccines; augmenting, restoring, or inhibiting cellular functions of interest via gene modulation for therapeutic and anti-cancer applications; as well as elucidating structure-function relationships to enable the design of superior drug carriers.