Engineering students can request access to the SuSu and Mark A. Fischer '72 Engineering Design Center (FEDC). This includes undergraduate students, summer guest engineering students and graduate students. Access is based on the following:
You are enrolled in a course requiring you to build/design a project or device.
You are taking an FEDC pop-up course or you have a scheduled lab in the center.
You are a graduate student needing to have a part manufactured or prototyped.
You are an entrepreneurship student working on a development project.
You are part of a multidisciplinary team working on an engineering project.
You are a faculty member assisting students or if you have a project.
Texas A&M University Identification Card
To access the interior areas of the Fischer Engineering Design Center you will need a new Texas A&M University ID card that contains an RFID chip. Once you have a new ID card it will be added to the Zachry Engineering Education Complex access system. From there, Zachry facilities personnel can assign proper door access.
FEDC Services and Courses
The FEDC was developed to provide a space for engineering students to build projects, learn new skills and consult with subject matter experts. It is a strictly academic facility with its share of safety and process rules. Members are allowed to submit a request for specific tasks to be done to a piece(s) or project by one of our trained technicians. We also allow groups/teams to submit a request as long as they have officially registered their team.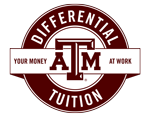 Differential tuition pays for enhancements to the learning experience of undergraduate students in engineering. These enhancements include extra sections of overfull courses, new computers and equipment, and even extra lecturers to teach classes. Learn more